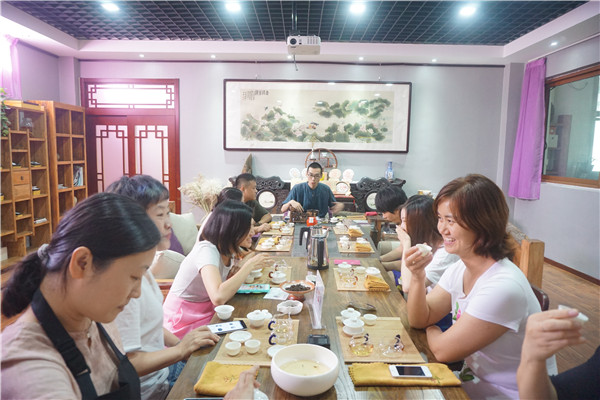 Private kitchen apps have sprung up in China in the wake of social dining, through which strangers come to a private dinner to have a good time. [Photo provided to China Daily]
When Yu Xin's food lover friend told her about a service through which users can essentially invite themselves to private dinners in other people's homes, the urge to give it a try was overwhelming. The mobile app Huoli offers amateur cooks who fancy themselves as professional chefs an outlet to entertain others, and at the same time the chance to meet people and make a bit of money on the side.
Each chef has an introduction page on the app in which they say something about themselves, their values relating to food and life, the food they specialize in and anything else they think potential diners will want to know, as well as photos and menus of the food they plan to serve.
Generally between four and eight guests will attend the dinners - although sometimes there can be more than 10 - and those who wish to attend make reservations by paying through the app.
Yu, 27, of Beijing has taken part in several such dinner parties since May, and the experience is fabulous, she says.
The choices for different cuisines are abundant on Huoli, and chefs all seem to be engaged in cooking their version of delicacies to satisfy strangers' palates, rather than being in it simply to make money, Yu says.
"I wouldn't say the chefs on Huoli are all better than chefs in expensive restaurants, but they're definitely much better than chefs in run-of-the-mill eateries. The ingredients are all high quality and fresh, and you can sense their passion for cooking and sharing good food with others. Making money is not the main thing."
For Yu, these dinner parties go far beyond enjoying food that is delicious and healthy; they also present the chance of meeting interesting people. Diners who come to the dinners are strangers to one another beforehand, but often end up being firm friends.
Yu says that because her job with an Internet company keeps her so busy, her circle of friends is small, but in attending these dinners she has extended that.
Most of the diners are gastronomes who have a zest for life, irrespective of their age, so they often have similar values and get on well with one another, she says.