"I'm particular about choosing the right ingredients for pizzas," says Dotson. He speaks highly of the cheese used by Yummy Box.
"The crust won't fall apart when you pick it up, which is important, considering the size of the pizza. It isn't very dry, too," he says.
The diner offers a mix-and-match service, so guests can order two flavors on the same pizza.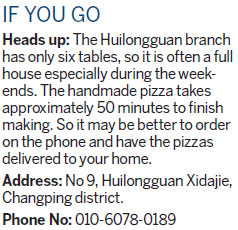 Before setting up shop, Ran and his wife spent almost half a year checking out well-known pizza eateries all the way from New York to Chicago. They spoke to workers at those eateries, visited their kitchens, and studied their recipes. By trial and error, they finally developed the menu that runs the gamut of the New York pizzas.
"It took us almost four months settling on pizza tastes. We buried ourselves in the kitchen and tried to create the original tastes in our memory and asked foreign friends to give us feedback," Ran recalls.
He stresses that he won't compromise on the original pizza taste to cater to Chinese customers. The couple also discovered Chicago-style pizzas, which feature thick crusts, more cheese, sauce and toppings that bear no resemblance to the New York ones.
"I immediately took a shine to the Chicago pizza when I was traveling in Chicago, and I knew I had to bring it back," Ran says.
Now, he and his wife offer Chicago pizzas at another branch in Wangjing, which was opened a year ago.
Contact the writer at yangfeiyue@chinadaily.com.cn