Beyond pizza and pompeii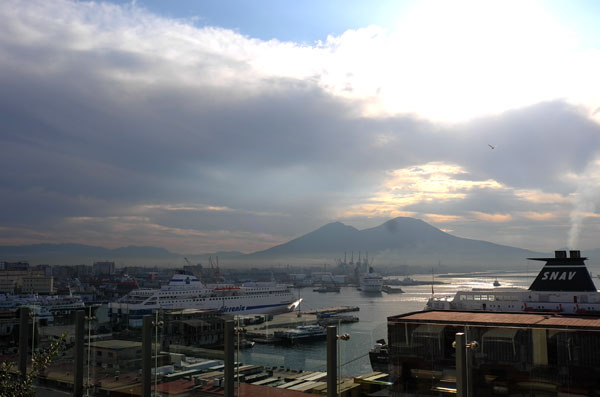 The view of Mount Vesuvius and the Bay of Naples unfolds from the window of Romeo Hotel. Photos by Rebecca Lo / for China Daily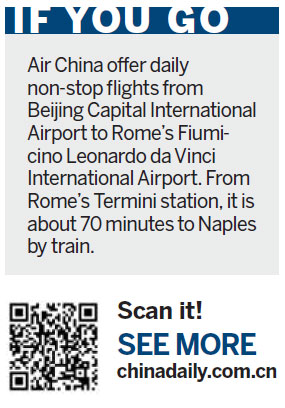 The sunny city of Naples lies in the shadow of Mount Vesuvius and is credited with being the birthplace of pizza. Rebecca Lo finds that it offers a lot more to intrepid travelers.
My friend Liana warned me not to go to Naples, the city of her ancestry. She herself was planning to go while backpacking through Europe many years ago, but was told to avoid the place while on an Italian train heading south.
However, my dreams of visiting the birthplace of pizza and walking through the ruins of Pompeii overcame my trepidation about visiting an alleged mafia-run town. My father decided to join me, as his last trip to Europe was in the 1960s - way before I was even born!
As I wanted to make things smoother for dad, we decided to rent an apartment for our week-long stay where I have the option of making rice for dinner. Airbnb is perfect for sourcing this type of accommodation and we were able to spot Luigi Imperatore, the host of our ground-floor apartment, without a hitch upon arrival.
Luigi lives upstairs in another flat in Chiaia, an upscale hilly district adjacent to the center of town and below Vomero, a leafy suburb. Armed with Luigi's helpful suggestions, we began with pizza for lunch.
We walked down the hill to da Michele on Via Giuseppe Martucci, a bright pizza joint that has been operating since 1937. A large wood-burning pizza oven and an elderly gentleman deftly tossing fresh dough assured us that we picked the perfect place to feast on caprese salad and mushroom pizza with ham.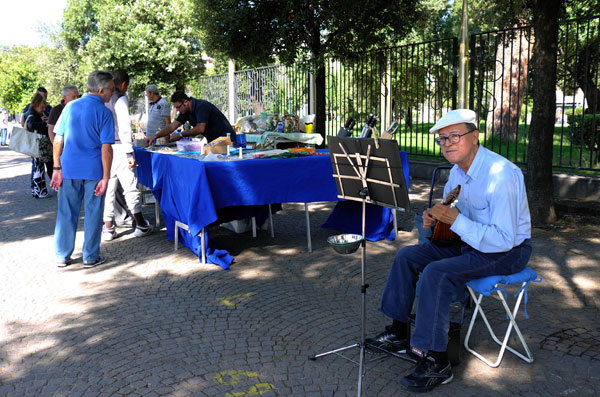 A musician performs at an antiques market along Chiaia's waterfront.[Photo by Rebecca Lo / for China Daily]
It was the best pizza I ever had. The chewy crust, charred here and there and infused with fragrant olive oil, was delicious enough in its own right. With a white sauce, bits of mushroom and dotted with fresh ham, it was elevated to an art form. Plump tomatoes and thick slices of firm buffalo mozzarella were a yummy summer accompaniment.
Over lunch, I glanced through my Rick Steves' Italy guidebook, concentrating on the sections on Sorrento, Pompeii and Naples. The American travel author is my trusted companion throughout Europe - and it is clear that Italy is his favorite country. He can't tell you where the Prada shops are, but it's probably handier to know where to find public washrooms near major sites.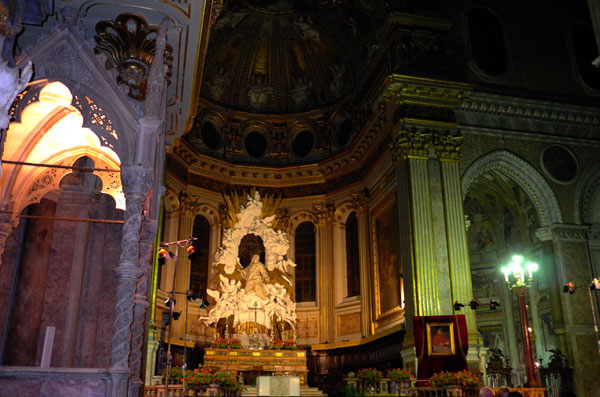 The altar of Duomo. The cathedral is a resplendent homage to gilding and 14th-century Renaissance frescoes.[Photo by Rebecca Lo / for China Daily]
We decided to take a tour of the city on one of the hop on-hop off red buses found in many large metropolises. Not only does this have the advantage of giving us a self-guided tour of Naples, it is also a good option for sightseeing on a rainy day. For dad, it offered the added benefit of a recorded description of sites in various languages, including Chinese.
After a somewhat confusing start when I thought that we could hop on to a bus from near our apartment - and the bus turned out to be too full - we ended up going into the city center to the terminus at Largo Castello.
There are four routes: One sticks mostly to the Naples' core; one heads up to the Catacombs and Bosco di Capodimonte museum; one loops around the hilly areas of Montesanto, Vomero and Chiaia; and one goes all the way out to Posillipo in the east of the city.