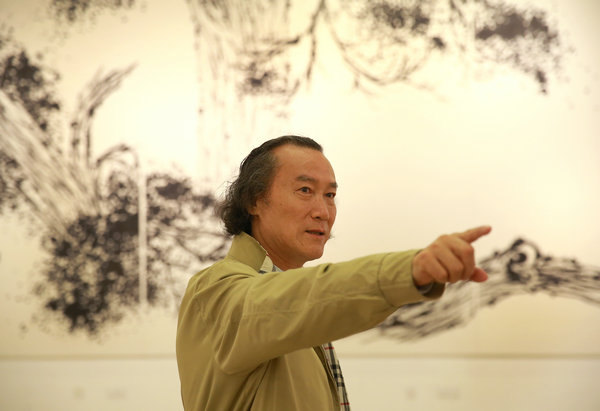 Xu Liming  says calligraphy forms the foundation of Chinese aesthetics. Calligraphy remains a significant feature in his ink paintings.[Photo by Zou Hong/ China Daily]
He says the title of his show, Cultivating a Noble and Fearless Spirit, made a similar suggestion.
The contents of his writing on display were largely inspiring verses from ancient poems and classical texts that were familiar to many in the audience.
He also showed poems he composed himself. Together with his calligraphy, paintings and seal art, Xu demonstrates the comprehensive cultural attainments Chinese literati have pursued for centuries.
Born in Nanjing, a historic city boasting rich artistic traditions, Xu's first cultural mentor was his uncle, whom he says took wide interest in composing poems, performing Peking Opera and studying traditional Chinese medicine.
Xu majored in the traditional bird-and-flower genre, painting in the highly meticulous gongbi style for his degree. Gongbi portrays subjects with realistic and detailed depictions.
He shifted to calligraphy and seal art when pursuing a master's degree. He researched into art history during his doctoral studies in the 1990s. His instructors included such prominent artists and scholars as Qi Gong, Lin Sanzhi and Xu Bangda.
"What they taught is that the perfection of skills is not realized by memorizing textbooks but by broadening one's cultural vision," Xu says.
He says he used to practice daily for technical perfection, while now he writes when he feels the desire to create.
"I fear that practicing too much will end up producing characters that look too sophisticated or similar. A little bit of unfamiliarity (with the brush) otherwise gets me excited about what and how to write."
When fully devoted, he works for hours to complete a calligraphy set of 12 leaves, each measuring 5 meters in height. Such hours result in shoulder aches for days, he says.
Xu believes that calligraphy in modern times also encapsulates the value of a quality lifestyle that was shared by the olden-day literati.
To convey that spirit, he has extended from paper to other mediums, such as zisha (red clay special to Yixing city in Jiangsu) teapots and porcelain.
His calligraphy on teapots and porcelain vases, featuring his carving of verses and paintings, were on show at his just-concluded solo exhibition at the national museum.
Xu says calligraphy forms the foundation of Chinese aesthetics, and he will never get bored with exploring the richness of the form.
In the 1980s, Xu exhibited widely as a young calligrapher. Master Lin told him that too much exposure might bring fame but for a young artist, nothing was as important as to practice.
"There is no need to compete with your peers. You should aim to rival past maters," Xu quotes Lin as telling him.
Contact the writer at linqi@chinadaily.com.cn