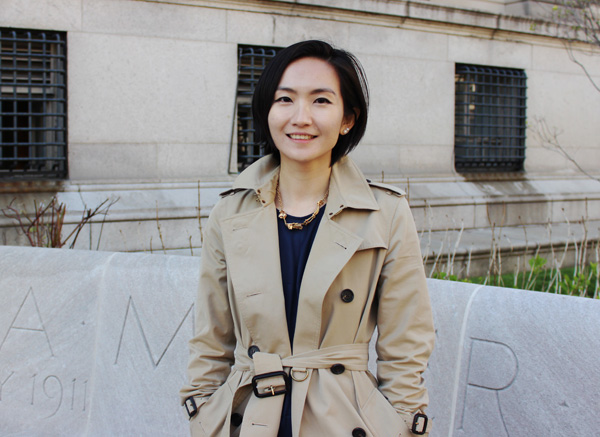 Victo Ngai, a 27-year-old, New York-based illustrator from Hong Kong.[Photo by Xiao Lixin/China Daily]
Being nominated for and eventually named one of Forbes' 30 Under 30 movers and shakers might be hugely exciting, not only because of the money but also because of the international recognition. Yet Victo Ngai, a winner of 2014's award in the category of Art and Style, seems surprisingly cool about the honor.
"I was indeed surprised when I was told I was among the finalists in the selection, after being recommended by the Rhode Island School of Design, my university, but not as much as later, when it was actually awarded," said Ngai, a 27-year-old, New York-based illustrator from Hong Kong.
"This title helps expand my client list," he said, "but it doesn't change things as much as people outside my profession expect."
"What makes me happiest about being a Forbes honoree is that, after my story got spread on social media, many people in Hong Kong and on the Chinese mainland have started to know what illustration is and been inspired and encouraged by my example," Ngai said.
Even readers with no art background who see Ngai's illustrations in publications like The New York Times and The New Yorker magazine recognize her unique style: detailed swirls of lines and a signature palette of bright and lively red, green, blue, orange and brown, all creating a traditional Chinese feel.
It's a style that comes from her distinctive cultural background.
"I was born in Guangdong province," she said. "I moved with my parents to Hong Kong when I was one and grew up there. Hong Kong has left me with a lot of childhood memories, but also impacted my illustration style. The experience of living in a city with streets always crowded with people, tall buildings and cars has somehow led directly to my preference for detail and richness in my work."
Many of her illustrations offer a window for her to recall her early childhood memories in Hong Kong or the fun memories she has with her friends in the US. One work is titled Bowlcut.
"When I was a small kid, parents in Hong Kong were so into giving their children a neat bowl cut hairstyle, so was my mom," said Ngai. "But I did not like my hair that way, since every kid had the same hairstyle and I wanted to be different and unique. So in my early illustrations, I put those feelings into my work."
Despite the fact that she had never had any professional art training before being enrolled in RISD, one of the world's top art schools, Ngai, as an only daughter, drew a lot while she was home alone. It was her way of creating her own magical world to entertain herself. Her mother always supported and encouraged her to follow her dream.
Her first big break was a half-page illustration published in the magazine Plansponsor her junior year. It would eventually help get her freelance career off the ground.
"It was actually an assignment for my professor Chris Buzelli's class but it was seen and chosen by his wife, Soojin Buzelli, creative director of the magazine, and was printed," said Ngai.
"That case was very important for me as an international student, as I only had one year to get a work visa to stay and work in the country and I started to do part-time work in my junior year," Ngai explained. "If it was not for this very smooth start, I don't know if I could have decided to work as a freelancer, rather than joining a company to do routine office work."
After graduating from RISD in 2010, she moved to and has been working in New York as an illustrator.
Her unique style helps attract commissions from both publications and companies, as well as followers on social media like Tumblr. And her style is still evolving.
"It's boring to draw in the same style without the slightest change for 10 or 20 years, isn't it?" she said. "No one's work can remain totally unchanged because your surroundings, where your inspiration comes from, keeps changing constantly, otherwise your work is insincere."
"My work now may look different from my very first works but under closer observation you notice it is a gradual change," she said. "I tried to make some changes from my previous 'too crowded' compositions and leave some space in the work called Horse Too Big and I like it very much."
As a young artist not yet reaching 30, she is already remarkably successful in terms of the praise and honors that she has received: Apart from the Forbes award, she has also won two gold medals from the US Society of Illustrators and The New York Times named her works noteworthy illustrations in 2010, 2012 and 2013.
Again, she downplays these honors. "It's just what people say," Ngai said with a smile. "How should we define success? The answer is yes, in my case, if success means being socially and professionally approved and recognized by those who previously did not think I could make it."
Ngai still lives and works in a 55-square-meter apartment in Manhattan. Small as the place is, the creativity and imagination that come from it seem boundless.
xiaolixin@chinadaily.com.cn