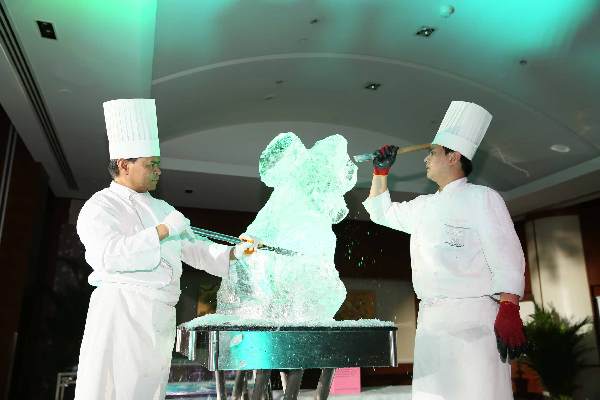 Ice artists Winston Hernes (left) and his son, Mark Wilson, adapt their woodcarving abilities to make sculptures from ice as well as fruit and chocolate.[Photo provided To China Daily]
As high-end restaurants and hotels push to make meals entertaining, ice artists are coming out of the workshop and into the dining room. Zhang Xuan and Mike Peters chat with a father-son duo of Filipino chefs
As hotel chefs and staff prepare for a dinner in China's capital, two men at the entrance are working up a sweat - despite being literally centimeters from a huge block of ice as big as they are.
Their chisels are flying, but the old saying "let the chips fall where they may" does not apply. The gawking onlookers can't see the design lightly sketched on the frozen surface, and they watch as an eagle suddenly emerges from the shapeless form. Winston Hernes and his son, Mark Wilson, have crafted the aquiline logo of Garuda, Indonesia's national airline and the sponsor of a food festival at Beijing's Kempinski Hotel.
"It is so amazing. I have never seen this kind of performance before," says Chen Lina, a dinner guest, who says she was surprised the artists could create such a vivid sculpture within a short time.
The ice artists are now part of the menu for the hotel's recently launched catering service. In addition, they always cut a big piece in "real time" during the hotel's Sunday buffet, at special events like the German hotel's beer festivals and at weddings.
Every week many customers come here especially to enjoy the ambience of making decorative sculptures in real time.
"Apart from their ice sculpture, this father and son themselves are quite a story," Chen says.
Winston and Mark come from the small town of Paete in Laguna province, "the carving capital of the Philippines". It's famous for moving statues of saints, all hand-carved from wood, have been featured on television. Many people in this community have traditionally been woodcarvers, like Winston's father and grandfather.