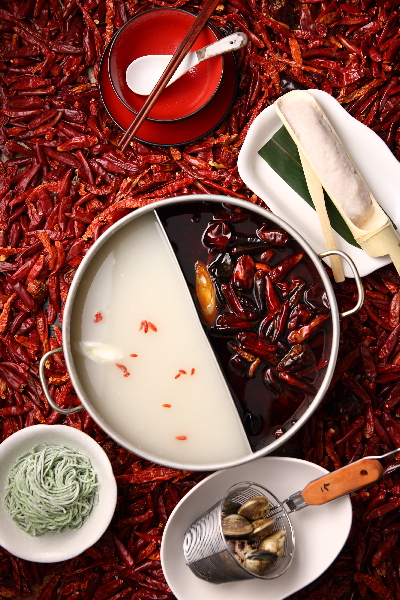 Yuanyang comb stock-half spicy and half wild muschroom stock.[Photo provided To China Daily]
About 1,500 years ago, Mongol horsemen, cooking over campfires, seared meat in their shields and simmered soup in their upturned helmets. This primitive cooking would eventually become one of China's signature dishes-hotpot.
Eating hotpot is a wonderful ritual of selecting morsels of raw food, placing them in boiling broth, waiting, fishing them out of the pot, dipping them into sauce and finally put them into your mouth.
But there is much more to hotpot than meets the mouth or the eye. An ingredient that is just as important is the cheerful air that comes with good company, lively chatter and possibly a hint of fashion and style.
There are many regional variations of hotpot throughout China, with many kinds of broth and, of course, myriad kinds of food that go into it, but few could match Red Bowl in style. This place is not so much a run-of-the-mill hotpot joint as a hotpot bar buzzing with life.
It opened little more than a month ago, but it already has a wide following, thanks in great part to its sheer style. The minute we entered Red Bowl, it was obvious we were in for something special. Food is served in chic and sleek surroundings that mix both raw and refined: exposed brick walls, recycled timber and stylish street art blend with speakeasy-lighting and splashes of bright colors.
The raw building materials, most of which were reclaimed from demolished houses and construction sites, are accented with moody lighting, red lacquer tableware, brass hot pots and bold contemporary art.
Throughout, the sophisticated decor blends rustic with chic.
In fact, this visual feast manages to do something I had never seen before: presenting a one-of-a-kind restaurant that connects Western bar culture with Chinese hotpot.
In pride of place near the entry bar, lines of seasonal ale are custom-brewed in 10 kg kegs. The spirit of sharing in hotpot extends to four-liter draft beer towers, a great complement to the rich hotpot vibe in the air.