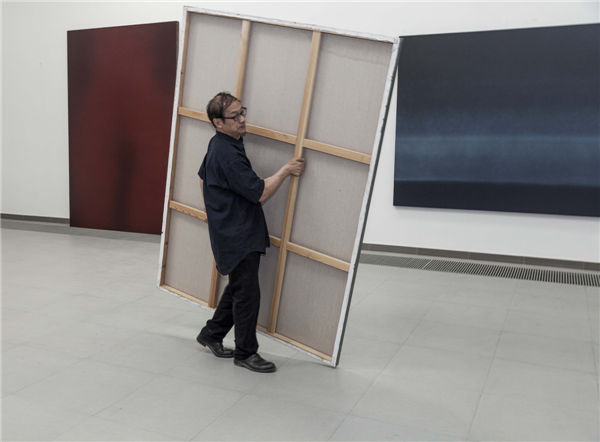 Artist Jiang Dahai works in his studio.
Before he used the technique of dripping, he tried other ways, such as Chinese freehand drawing, pouring ink or stippling using a loofa sponge, and finally adopted his current technique.
Henry-Claude Cousseau described Jiang's painting technique as "A gesture of a hand that, with a brief stroke of the wrist, allows the brush to scatter a fine rain of drops that stain the painted surface of the canvas with delicacy."
Jiang holds that Chinese painting is more freewheeling and obscure, which is based on the Chinese philosophy of Taoism, Qi (energy force or vital force) and Zen. Qi is vital for Chinese art, and without it, art is dead. That's why we can always see and feel a kind of Qi rising in his paintings.
Henry-Claude Cousseau, commented, "Jiang Dahai is not only a painter, but also a philosopher. Through his paintings, we can see a boundless universe with infinite light, and can't help being attracted by."
If you go:
From Nov 16 to Jan 8, 2015
Yishu 8, Former Sino-French University, NO 20 (jia), Dong Huangchenggen Bei Jie, Dongcheng district, Beijing
+86 (10) 6581 9058