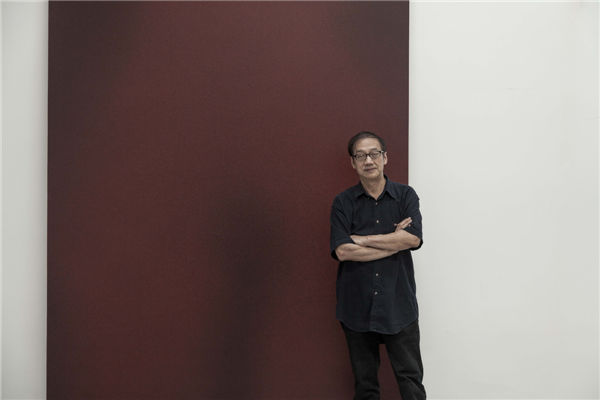 Artist Jiang Dahai poses with his painting.
During that time, he lived in an international art district in downtown Paris, and coincidently a window of his room faced an old wall. The dilapidated wall was not repaired or decorated to keep its original look. One day, he tried to portray the wall using a realistic approach, and when he finished, he suddenly found that the painting looked like an abstract one. Therefore, he took this as his first real abstract painting, and regarded this as an important step in his transition from Realism to Modernism.
However, the way to abstractionism was arduous in the beginning. The French market was hard to break into, especially for foreign artists who want to be accepted by French art circles.
It took him almost 10 years to totally gain a firm foothold in the abstract art market. Money he earned from selling earlier oil paintings helped him manage through the hard time.
During his study in the West, Jiang said that Mark Rothko, the American abstract artist, influenced him a lot. From him Jiang said he began to realize the leading role of math and geometry in the art, and also the significance of philosophy in art creation. Also, he made a systematic study of color theory in France.
When learning Western art, he also tried to integrate Chinese cultural essence into his abstract art, and attempted to establish his own style.