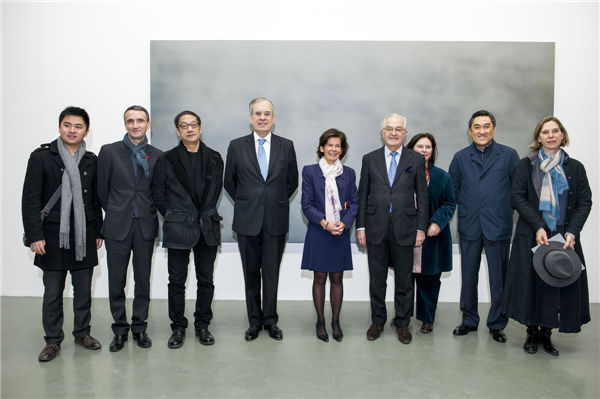 Participants pose at the opening ceremony of Jiang Dahai's solo exhibition at Beijing Yishu 8. Maurice Gourdault-Montagne (L,4th), the new French Ambassador to China attended the ceremony.
In France, where the country is brimming with artistic atmosphere, he got access to the most developed art and was also trying to integrate Chinese elements into it.
"Even though I was in the Oil Painting Department, I began to become interested in Modernism before I went abroad", Jiang said. "When I was in France, I found that the art circle had been more avant-garde, and the Modernism had been beyond the scope of paintings."
His shift from Realism to Modernism took a long time, and a decade had been passed before he got on track and established his own abstract style.
When he first came to France, he was still creating realistic paintings, mostly landscape paintings depicting the scenery of Paris, from the urban areas to the suburbs, and then other places in France. Those paintings sold well, especially in the Asian market. Christie's, a leading auction house, had even offered him an annual salary of 500,000-600,000 yuan ($82,000-98,000) and only required him draw a few realistic paintings per year. That was quite a large amount of money 20 years ago.
However, Jiang refused. "If I show these paintings to French people, they will look down upon these paintings", he said. "These paintings are good, of course, but it has nothing to do with French art circles. It's just a market thing."
Having gone through a two to three years' transition period, he gradually stepped into exploring abstractionism. At first, he tried the abstract way to express the clouds in France, which are always in various shapes and colors.