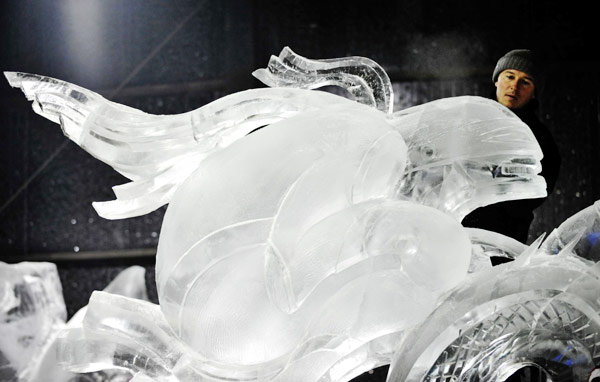 Aleksei Sidorov from the Amur Oblast region of Russia carves an ice sculpture of a motorcyclist in the Harbin International Ice Sculpture Competition. Wang Jianwei / Xinhua News Agency
Making art from frozen water takes both determination and creativity. Zhou Huiying follows sculptors from seven countries around Harbin's annual winter festival.
Although it is even colder than usual this winter in Northeast China, two recently arrived Russians are not dismayed.
Aleksei Sidorov and Evgeni Savchenko are here in the industrial city of Harbin for the three-month International Ice and Snow Sculpture Festival that officially opened earlier this month. The hardy Russians are snow sculptors.
Cold is their business.
The surprise is that they won - not the snow-sculpting contest that they came for, but the ice sculpture event, which they've never entered before.
"I still can't believe that now," says Sidorov after the duo was presented the 10,000-yuan ($1,606) first prize at Harbin's 27th international contest for ice sculpture, one of the most important events of the festival.
All the designs by the 2013 contestants are on display at Harbin's Zhaolin Park until the end of February.
Sidorov and Savchenko hadn't even registered for the ice contest when they arrived in Harbin, focused on the snow sculpture competition, now in its 18th year.
Perhaps they were inspired by the massive ice blocks for sculpting, harvested from the Songhua River which freezes from late November until March. In any event, the time felt right.
They begged for the chance to enter, and the organizing committee granted an exception to allow them to sign up late.
Sidorov says they left their electric saw at home - it's not a tool needed to shape snow - so they had to carve the ice without one. That brought challenges, but the result was a winner.
Their sculpture Motorcyclist is about healthy lifestyle, Sidorov says.
"In our hometown Amur, people like playing on a snow motorcycle in winter, and it is also a traditional sport event there," he says.
"Snow motorcycle races are held to tell people, especially young people to keep away from drugs and choose healthy lifestyle, so we choose it as our subject."