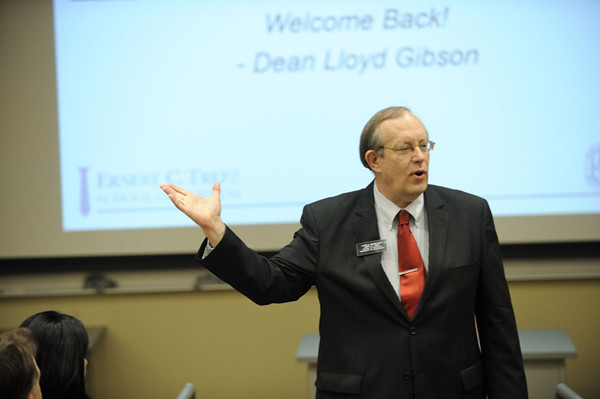 Lloyd Gibson, dean of the Ernest C. Trefz School of Business, with the University of Bridgeport, in Connecticut, the US. [Photo provided to chinadaily.com.cn]
China is the No. 1 source of international students for many universities in the US, especially in the fields of business and management.
As more American universities look east to recruit students, it's become routine for American school administrators, such as Lloyd Gibson, to visit China. Gibson, business school dean at the University of Bridgeport (UB), travels to China at least twice a year to attend school fairs and develop relationships with partner Chinese institutions.
The 10-year multiply-entry visa policy has made it much easier for him to visit China, Gibson said. But what else is out there for the US universities and the Chinese students looking to study in the US? We talked to Gibson and his colleague, Steve Boyd, director of UB's International Admissions, during their recent trip to Beijing.
The new visa policy has triggered a boom in Sino-US travel. Do you think it will also benefit the schools and students of the two countries?
Gibson: That's a good thing for Chinese students and also for us. The new visa policy makes it easier for Chinese students and their families to visit the US. It should help the students better prepare for study in the US by possibly allowing them to experience US culture in advance of their studies.
In fact, we already have Chinese students come in groups to visit our school in the summer and it gives them a chance to visit and see the school. We set up lectures for them so they can get exposed to the American education system. It helps them better make a decision.
Boyd: It's really the best way, because making a decision of where you go to university is a big decision. It is a big decision financially, in terms of your time and commitment, and it will also affect your future career.