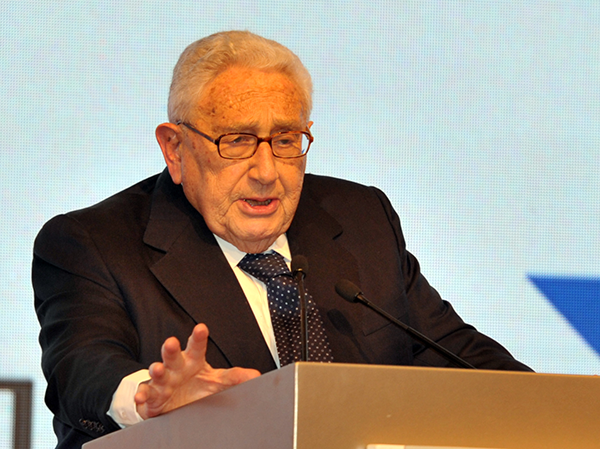 Henry Kissinger makes a speech at World Order and China's Role forum in Beijing on Saturday. Wen Xuan / CFP
Part one of a new Henry Kissinger biography sheds light on the legendary diplomat's mind, Andrew Moody reports.
Niall Ferguson says China's leaders are now more likely than US President Barack Obama to seek out Henry Kissinger for advice.
The professor of history at Harvard University, who has just published the first volume of a biography of the former US secretary of state, insists it is one of the reasons America's foreign policy is in such a mess.
President Xi Jinping met again with the 92-year-old former foreign policy guru at the Great Hall of the People in Beijing on Monday.
"It is remarkable to my mind that President Obama thinks he doesn't need Kissinger's expertise and, apparently, believes he can do grand strategy all by himself," Ferguson says.
Ferguson, 51, was in London to promote the 1,000-page Kissinger 1923-1968: The Idealist that takes the diplomat's life up to the point he entered the White House and wielded political power for the first time.
In his review in the Financial Times, former Hong Kong governor Chris Patten joked he hoped Ferguson did not suffer the fate of another biographer, Rohan Butler, whose own similarly epic first volume took the life of the French statesman Choiseul only to the point where his career begun, and then died before he could produce a second.
"I think this first volume in this case is worth 1,000 pages," insists Ferguson. "I don't think you can possibly see how he becomes national security adviser to Richard Nixon if you don't see his evolution as a strategic thinker and public intellectual.
"As Kissinger himself says, you have to live off your intellectual capital in office because you don't have time in government to acquire any more."