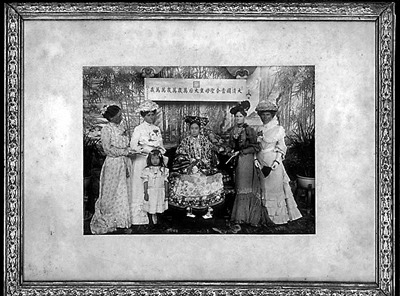 Empress Dowager Cixi poses with foreign diplomats' wives. [Photo/Xinhua]
Rare photos of the Imperial Palace are being seen by the public for the first time since 1949. To celebrate the 90th anniversary of the Palace Museum, the museum opened on May 17 an exhibit displaying archival photos from the late Qing Dynasty and the Republic of China.
The exhibition includes 300 items that have been carefully selected from more than 20,000 old photographs and glass-frosted negatives. The subjects include politics, the economy, military, education, diplomacy and people's livelihood covering more than 100 years. Many rarely seen images of the Forbidden City, as well as people living within it, are now open to the public.
According to Palace Museum Director Shan Jixiang, photographic technology was brought to China in the late Qing Dynasty (1636—1912), during a period of warfare as well as turbulence. The earliest photo, of Prince Yihuan with imperial bodyguards, was shot in 1863.
The technology was introduced into the Palace Museum when it was still called the Forbidden City. It was the Chinese emperor's dwelling, which was much safer than the outside world. So it became the perfect haven to take and preserve photos.
Among the displayed photos, visitors can find images of the Empress Dowager Cixi in her 40s, which were sent by American diplomats; photos of the dynasty's last emperor, Puyi and his wife, Empress Wanrong, as well as photos of scenes in the Imperial Concubine Selecting ceremony.
Some of the buildings in the photos have passed out of existence. A photo shot in Zhongnanhai, once an imperial garden in central Beijing, showed that there was a Baroque-style building which was called Haiyantang. According to historical records, it's where the Empress Dowager Cixi used to receive foreign diplomats' wives and other honored female guests from abroad. The building was destroyed dozens of years ago.
The display falls into four categories, covering themes of politics, economy, military, diplomacy and common people's customs and practices from 100 years ago.
The show will be open until July 17 and is included in the entrance ticket price for the Palace Museum. However, 32 particularly rare photos will be on show for only 30 days.