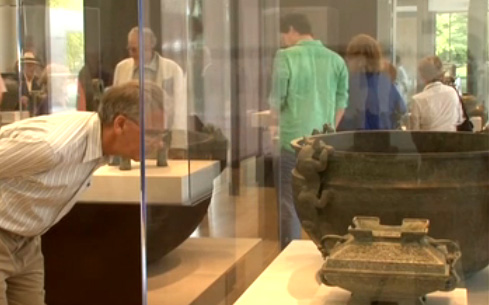 [Photo/CNTV]
As China and the US mark the 35th anniversary of diplomatic ties this year, an exhibition of ancient Chinese bronzeware is going on tour in the US to give a glimpse into Chinese history, and in the hopes of creating greater understanding between the two cultures.
The exhibit covers a wide range, from vessels to musical instruments, selected as the most symbolic bronze art of ancient China.
They are lined up to chronicle the past glory running through 12 centuries, from the late Shang Dynasty to the end of Warring States Period, around the second century BC Together they demonstrate the history of brilliant bronze art in ancient China.
The bronze pieces on display varies from cooking ware, weapons, musical instruments and other daily items from China's bronze age.
Judging by the people's growing knowledge of the bronzeware we can see the fruitful results of the cultural exchanges between China and the the US during the past three decades.
With deeper understandings of the bronzeware and the the stories behind them, many Americans are learning about how precious these relics are to the Chinese people.
In June, an ancient bronzeware called "Lei(罍)" was returned to China, an act that will hopefully be repeated and serve as a good benchmark for cultural understanding between the US and China.