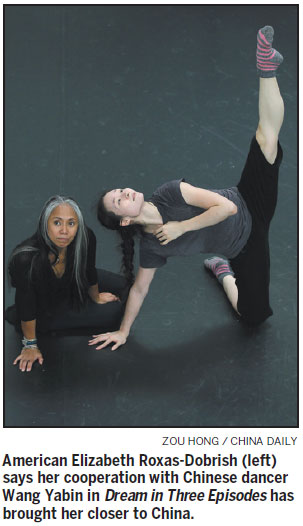 At first, Elizabeth Roxas-Dobrish, a former star of Alvin Ailey American Dance Theater, the New York-based modern dance company, wasn't sure about the outcome of her recent visit to Beijing.
Since her arrival in late July, Roxas-Dobrish has spent days practicing for a dance project called Dream in Three Episodes that will be presented at the National Center for the Performing Arts on Aug 22 and 23. Her collaborator on the work is Chinese dancer Wang Yabin.
When the 56-year-old veteran American dancer-choreographer watched Chinese TV soap operas, she had noticed cast members conveying their emotions with "dramatic facial expressions", she says adding that as an audience member, she felt nothing.
"It's the opposite way for me to express feelings onstage. What I want is to transmit from inside out. I was not sure if Yabin could understand how I wanted the piece done," says Roxas-Dobrish, who performed in China with the Alvin Ailey American Dance Theater in 1985.
This is her first time working with a Chinese dancer.
However, two weeks of rehearsals with Wang put Roxas-Dobrish at ease.
"She is just like a sister from another mother. Her movements flow with the right chemistry," said Roxas-Dobrish of Wang, 30, during an interview with China Daily before she left Beijing on Aug 5.
During one practice session on a humid afternoon, when Wang was swirling to a song by late American jazz singer-pianist Shirley Horn at the Yabin Studio in the outskirts of Beijing, Roxas-Dobrish took her photograph. Wang opened the studio in 2009.