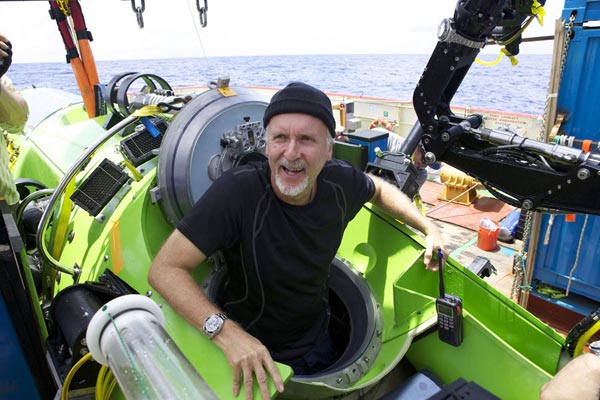 Director James Cameron is seen with his Deepsea Challenger submersible in the new documentary film "Deepsea Challenge 3D". [Photo/douban.com]
On March 26, 2012, director James Cameron set a record by completing the first solo dive to the deepest area in the global ocean. This Friday, with the release of the documentary "Deepsea Challenge 3D", he is sharing with the world what he has seen down there.
There is "an alien world right here on Earth. [...] I've seen some pretty astonishing things at the depths," Cameron says in the documentary, directed by John Bruno, Ray Quint, and Andrew Wight.
The film, available to watch in IMAX 3D since August 8 in the United States, traces Cameron's seven-year project of building his submersible, dubbed Deepsea Challenger, and riding it to reach the bottom of the Mariana Trench in the western Pacific Ocean.
Cameron's descent reached a maximum depth of 10,908 meters. That depth means if one were to put the world's highest mountain on this spot, the mountain's peak would still be more than 2 kilometers beneath the ocean's surface.
A science geek in his childhood, the Oscar-winning filmmaker was the third human being to have physically seen the deepest seafloor on Earth. A prior manned dive was made by two men in 1960, although they only spent about 20 minutes on the seafloor.
Cameron managed to stay for about three hours at the lowest depth, shooting 3D video footage and collecting samples for scientists. The video footage captured images of what scientists viewed might be never-seen-before species.