Sandra Bullock tops Forbes list as Hollywood's top-earning actress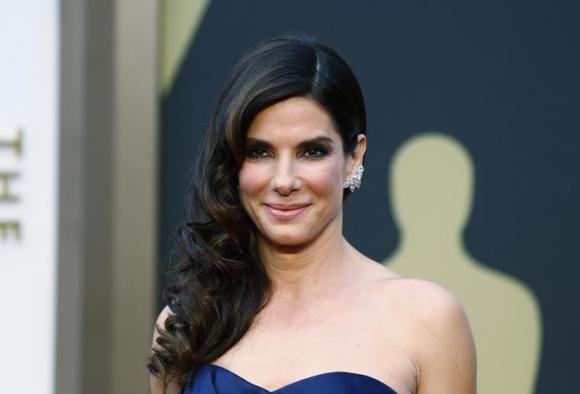 Sandra Bullock, best actress nominee for her role in "Gravity," wearing an Alexander McQueen gown with Lorraine Schwartz jewels arrives at the 86th Academy Awards in Hollywood, California March 2, 2014. [Photo/Agencies]
Oscar winner
Sandra Bullock
is Hollywood's highest paid actress with estimated earnings of $51 million over 12 months, followed by
Jennifer Lawrence
and
Jennifer Aniston
, Forbes magazine said on Monday.
Bullock, 50, had a big hit last year with the space thriller film "Gravity," which won seven Academy Awards including best director for Alfonso Cuaron, and made more than $716 million worldwide.
The best actress Oscar winner in 2010 for "The Blind Side," Bullock jumped from seventh place on the previous Forbes earnings list to the top spot between June 2013 and June 2014.
"'Gravity' star Sandra Bullock didn't win best actress this year but she did walk away with a ton of money," according to Forbes.com.
"Hunger Games" actress Lawrence, 23, came in second for the second consecutive year with estimated earnings of $34 million, while Aniston, 45, climbed one spot to No. 3 with $31 million.
Forbes compiled the list by estimating earnings from the actresses' film work, endorsements, residuals and advertising work, and by talking to agents, managers and lawyers.
Gwyneth Paltrow, 41, who made an estimated $19 million, and Angelina Jolie, with $18 million, rounded out the top five. Jolie, 39, dropped from No. 1 last year.
Scarlett Johansson, the 29-year-old star of the sci-fi action thriller "Lucy," came in seventh with $17 million, and "Twilight" star Kristen Stewart, 24, fell from No. 3 last year to 10th place with earnings of $12 million.
Although all of the actresses pulled in hefty incomes, Forbes said women still earn less then men in Hollywood. While the 10 highest earning actors took home a combined total of $419 million, Hollywood's 10 best paid actresses made a total of $226 million during the same time period.