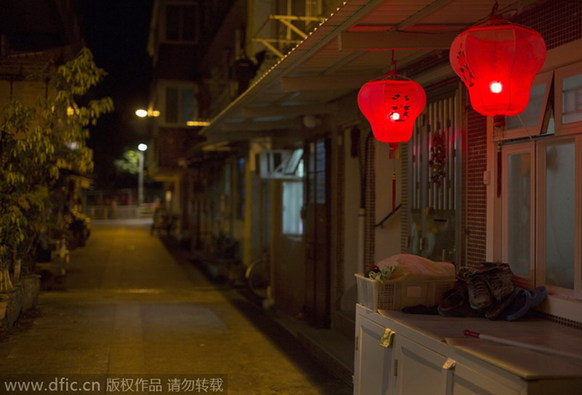 Red lanterns are hung under the eaves to mark the "Hungry Ghost Festival" at an outlying island in Hong Kong.[Photo/IC]
When you come to Hong Kong in the seventh month of the lunar calendar, you will see lots of colorful bamboo scaffolds located everywhere. The Chinese traditional Hungry Ghost Festival or Yu Lan is solemnly celebrated almost in every district during this month.
According to traditional belief, the seventh month on the Chinese lunar calendar is called Ghost Month. The gates of hell are sprung open to allow spirits spending the month visiting their families, feasting and roaming on earth.
In this month, Hong Kong people make efforts to appease these transient ghosts, while "feeding" ancestors. Grandfathers often warn children not to go out at nights. Residents burn joss paper offerings at street sides. The most popular offerings are Hell Bank Notes.
"August 10, which is the 15th day of lunar July this year, is called the official day of Yu Lan. Unlike Halloween in the West which is only celebrated for several days, Yu Lan can be celebrated for a whole month," said Xia Zhongjian, boss of the biggest joss paper offerings shop in Hong Kong.
A lot of bamboo scaffolds covered by decorative cloth and paper were set up for building the temporary theatres and memorial places.
"King of Hell, made by colorful paper and bamboo, is the signature figure of Yu Lan, I received more than 60 orders this year to make the King, and the tallest King will be around 8 meters high," Xia said.