In Chinese culture, the 15th day of the seventh month in the lunar calendar is marked as Zhongyuan Jie, Ghost Day, which falls on Sunday August 10, this year.
It is traditionally believed that spirits visit to the living on that day, so people would burn joss paper to worship their ancestors as well as to persuade the unknown wandering ghosts from harming them. Parents would warn their children not to stroll at night and not to wear red as ghosts are attracted to red.
No matter if you believe in sprits or not, ghost tales and stories are always fascinating to curious minds. That might explain why people pay money to watch horror movies and spend much time reading thrillers. Here we take a look at some of the spookiest tourist attractions around the world.
Island of the Dolls,Mexico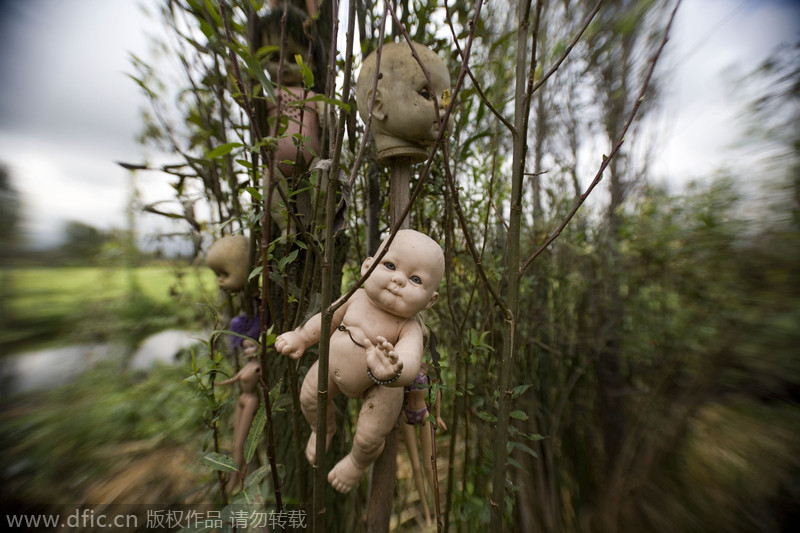 Dolls hang from the trees at the entrance to the Island of the Dolls, in Xochimilco Lake in Mexico City, Wednesday Oct. 8, 2008. [Photo/IC]
On an island full of mutilated dolls in the canals of Xochimico near Mexico City sits what might be the world's strangest and scariest tourist attraction. The dolls were said to have been originally used as a way to ward against the spirits, after a young girl's accidental drowning at the island. Don Julian Santana, then the only inhabitant of the island, believed that he could make the dead girl happy by hanging discarded dolls on the island's trees. Santana's family members now run the island as a tourist attraction.