Once regarded as a lavish treat that not everyone could afford, KFC is today the undisputed leader in the domestic fast food industry, with its famous offerings consumed by millions
Editor's note: Four people from all walks of life share with China Daily USA their memories of KFC when it first entered the Chinese mainland in 1987 and became the country's maiden fast food chain.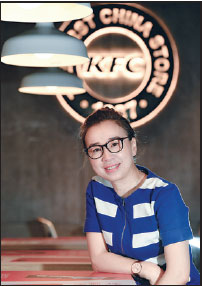 ZHAO LI, 51, who was among the first 98 staff at the KFC Qianmen outlet when it first opened in 1987. Today she is the regional manager of KFC in Beijing.
How did you end up working at KFC?
I saw the job posting on the only local newspaper and found out the hiring restaurant was just one block away from my home. I had completely no idea what KFC, or fast food, or Western restaurants were as there were no such things back then. My only motivation was the fact that the restaurant was near home and that might be better than the administrative job my family found for me at a hospital.
When I arrived for the interview, which was arranged at a middle school opposite the restaurant, I was shocked. There were so many candidates that I could barely make it past the school gate. And everyone, both male and female, were so attractive. It was more like a casting call for a film.
There was also a height requirement - women had to be above 1.6 meters while and men had to be taller than 1.7 meters. I was later told that only 98 out of the more than 1,000 people would be hired. I waited more than four hours for my turn, but the interview was quick - a self introduction in Chinese and in English, followed by a written examination that required you to translate Chinese numbers into English. That was it.
I was notified two days later and started job training for about three months. Part of the training involved watching a program on a small black and white television about how KFC in the United States operates.