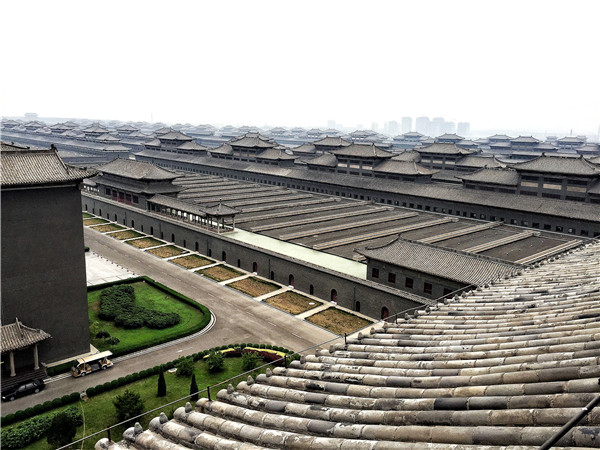 Fenjiu's new conglomerate features more than 100 imposing ancient-looking buildings and will showcase the whole process of wine making to the public in future. [Photo by Yang Feiyue/China Daily]
Xinghuacun is known for wine production going back 1,500 years. And Fenjiu, a traditional brand of lightly scented liquor produced there, wants to stay true to its traditions while at the same time being modern
An ancient-looking building cluster appears before us as we set foot in Xinghuacun town in northern China's Shanxi province. More than 100 imposing black-tiled buildings stand close to each other and their roofs resemble a sea of stones stretching out into the distance.
They are building replicas from the Tang (618-907), Song (960-1279), Ming (1368-1644) and Qing (1644-1911) dynasties.
The cluster covers a floor space of 1.58 million square meters, the size of 10 Palace Museums in Beijing. The wall surrounding the cluster alone runs 10 kilometers.
The cluster is part of the Fenjiu and local government efforts to integrate tourism with local wine culture.
Xinghuacun has been known for wine production going back 1,500 years. The famed Tang Dynasty poet Du Mu (803-852) made the town an epithet for good wine in his well-known poem The Mourning Day.
To date, the town is home to the time-honored winemaker Fenjiu, which specializes in producing lightly scented liquor.