New Macao auction highlights imperial painting, wine vessel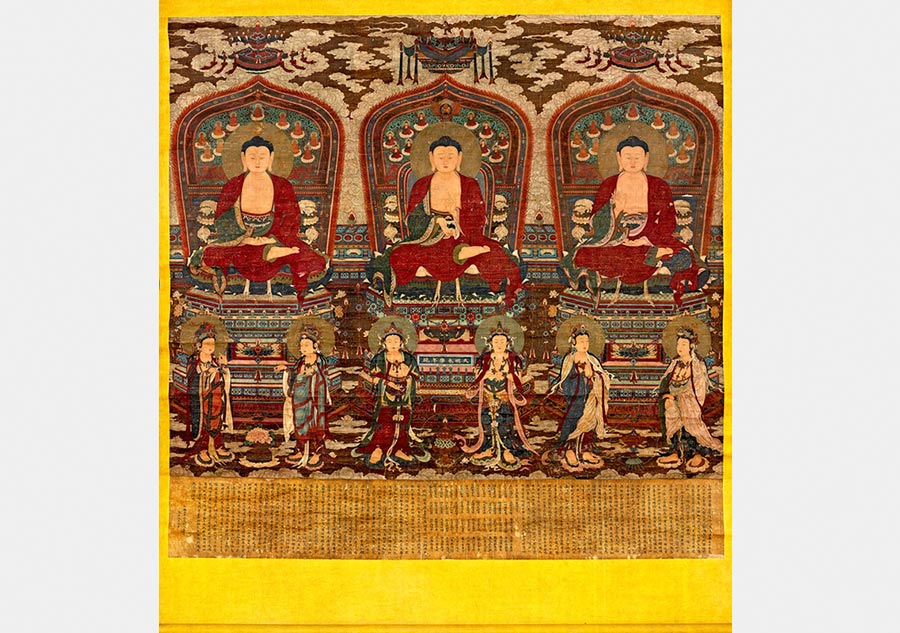 An imperial Buddhist painting from the early 15th century. [Photo provided to China Daily]
An imperial Buddhist painting from the early 15th century and a Shang Dynasty (c. 16th century-11th century BC) wine vessel called you will be on the block at the inaugural auction of Jung Hau Dian Tsang Auction in Macao on May 22 and 23.
The Buddhist painting, produced during the reign of Emperor Yongle of the Ming Dynasty (1368-1644), boasts vivid colors and sophisticated depictions of the costumes of nine Buddhist figures that are arranged in three groups in the painting. It blends a distinctive style of presenting Buddhist motifs by the Han (206 BC-220) artists since the Tang Dynasty (618-907) and elements of Tibetan Buddhist art. It has been in a private collection in the United States for more than two decades.
Another highlight is a Shang archaic bronze wine vessel, you, which features patterns resembling an eagle and stands 18 centimeters tall. Few fine examples of similar shapes and patterns can be found at art museums in China.
The Macao auction house's first sale includes more than 600 antiques and works of art, such as classic Chinese paintings, Buddhist figures, ceramics and antique jade pieces.
Yi Suhao, chairman of Jung Hau Dian Tsang Auction, says Macao's cultural landscape has boomed since it was returned to the sovereignty of China in 1999. He says important domestic cultural institutions such as the Palace Museum have sent their collections and exhibitions on tour to Macao, intensifying exchanges between the mainland and Macao, adding that the past two years have also seen an emerging art auction market.