'Fish Pond' bowl of Ming Dynasty auctioned for $29.5 million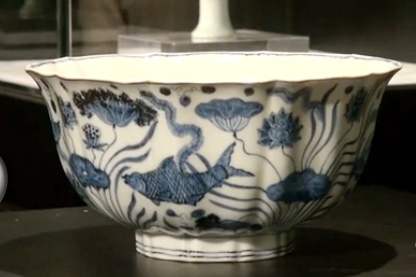 A "Fish Pond" lobed bowl of the Ming Dynasty. [Photo/Screenshot from video of China News Service]
A "Fish Pond" lobed bowl of the Ming Dynasty was auctioned for 229 million Hong Kong dollars ($29.5 million) at Sotheby's spring sale here on Wednesday, setting the second highest record for Ming porcelain.
The blue-and-white porcelain bowl has a diameter of 23 centimeters and is painted with a design of fish swimming in a pond of blossoming lotus.
Made in the Xuande Period (1426-1435), the bowl has been preserved in extraordinary condition and considered as a great example of early Ming blue-and-white porcelain in private hands.
Sotheby's Asia Deputy Chairman Nicolas Chow said the procelain bowl is extremely rare and possibly unique, which ranks among the very finest pieces ever produced during the reign.
"It is a piece that is very well-known in Japan, having been exhibited in the Tokyo National Museum in 1963, and the Kyoto National Museum in 1966, and published extensively thereafter," Chow said.
The current world auction record for Ming porcelain is held by the Meiyintang Chenghua (1465-1487) "Chicken Cup" which was sold for 281.24 million Hong Kong dollars on April 8, 2014.
Related: 'Pink Star' diamond sparkles in $71.2 million record sale in HK