'Pink Star' diamond sparkles in $71.2 million record sale in HK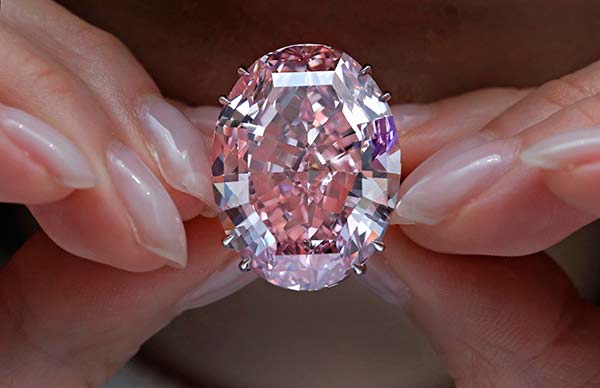 A 59.6 carat pink diamond sold for $71.2 million at Sotheby's in Hong Kong on Tuesday. [Photo/Agencies]
A stunning 59.6 carat diamond known as the "Pink Star" sold for $71.2 million at a Sotheby's auction on Tuesday in Hong Kong, setting a new world record for any diamond or jewel, the auction house said.
At the same auction, other treasures were sold, including a Ming Dynasty (1368-1644) bowl selling for nearly $30 million.
The oval mixed-cut Pink Star smashed the $60 million presale estimate set by Sotheby's when it went on the block.
The diamond was mined in Africa by De Beers in 1999 as a raw 132.5 carat gem and cut over a two-year period. The gem is the largest flawless fancy vivid pink diamond ever graded by the Gemological Institute of America.
Three telephone bidders competed for the stone during five tense minutes of bidding. Sotheby's Asia Chairwoman Patti Wong said the winning bidder was Hong Kong jeweler Chow Tai Fook.