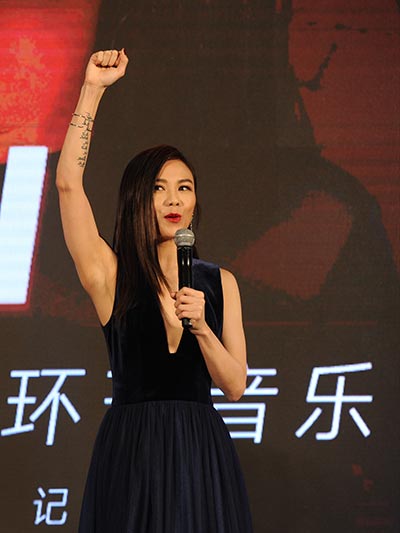 Tanya Chua [Photo provided to China Daily]
When Tanya Chua walked into a five-star hotel in downtown Beijing recently, she did not expect to review her two-decade-long music career via photos, songs and videos.
"I had not really looked back on what I had done as a singer-songwriter until this moment. I am kind of proud of myself," says the 42-year-old Singaporean Chua, who is based in Taiwan now.
With 10 full-length albums, Chua is the only Singaporean singer-songwriter, who has won the Best Mandarin Female Singer three times at Taiwan's Golden Melody Awards, which is considered the Grammy Awards of the Mandarin music scene.
She was in Beijing for a news conference, which celebrates the singer-songwriter's latest collaboration with Universal Music Group, one of the world's leading music-based entertainment companies.
After Chua released her debut English album, Bored, in 1997, she signed up with Universal Music Group, which ushered her into the world of Mandarin music.
"So, it (this new collaboration) feels like reuniting with your first lover," Chua says of working with the record company again. "I saw many familiar faces, who are still working in this company. They bring back lots of memories."
Chua, who has released hundreds of songs both performed by herself and by other Mandarin pop singers, such as Faye Wong and Na Ying, looks forward to doing crossover performances with musicians under the label.
Chua has also done the theme song Purple for the movie, Wukong, directed by Guo Zijian and starring Taiwan actor Eddie Peng Yu-yen, which is being screened across the country.
Speaking about the song, Chua says: "Usually people ask for songs to be written. But this is the first time that I was invited to sing a song, which I had not written.
"The song is kind of traditional and old school.
"So, the fact that I could interpret the song, which is not my style, surprised me."
Now, she is preparing for an upcoming concert in Shanghai on Aug 12.
Speaking about the show, she says: "I prefer hiding behind my music. So, it took a long time for me to learn how to perform onstage and how to communicate through singing my own songs."
Chua started her music career by performing in pubs and cafes in Singapore while she was still a student at Singapore Polytechnic.
She did not plan to be a professional singer-songwriter until her debut album Bored.
"I knew that I had talent but I did not know how far I could go," says Chua.
"But after the first album, I decided to take singing seriously."
In 1998, she went to Los Angeles to study electronic guitar, and a year later she released her first self-titled Mandarin album.
However, the road was rocky.
Her second and third albums, Remember and I Do Believe, earned her Golden Melody Awards nominations for Best New Artist and Best Female Artist, but did not sell well.
So, Chua was then asked To sing songs written by others instead of her own material, which made her lose confidence.
"That was the lowest point for me as it deviated so much from why I went into the music business in the first place," says Chua.
Then, in 2004, she moved to Taiwan and started from scratch.
She found herself a small record company, who believed in her music and told her to be herself and write her own material.
She also became the producer of her album though she knew nothing about being a producer then.
"I bought lots of equipment and taught myself," says Chua. "The process was lonely but rewarding."
In 2006, her album, Amphibian, was nominated for three Golden Melody Awards, including Best Album Producer, and won her the Best Mandarin Female Singer award.
"It was a bittersweet moment. That was the moment when I started to understand what my music was all about, and what it should sound like. It felt like I had come full circle, though it took many years," she says.
She believes that curiosity is important in songwriting.
She likes observing what people are saying or doing and considers herself a sponge absorbing her natural surroundings.
When the sponge is all soaked up, she just lets all the accumulated thoughts spill out in songs.
"I have a small studio at home. I lock myself in a room for weeks. I cannot even sleep when I focus on writing. The melodies just play in my head over and over again," she says.