Ancient ethnic love songs reach the world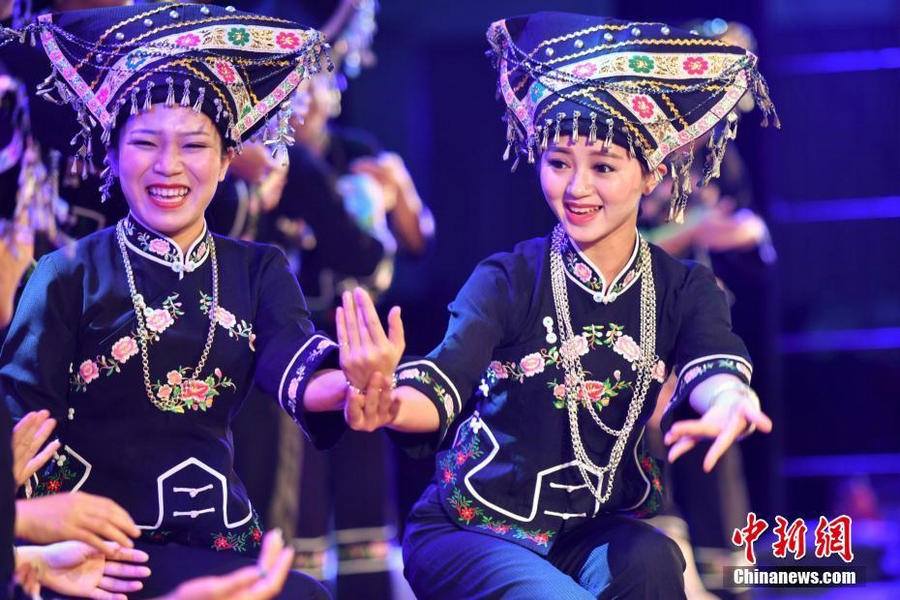 Two leading female singers on stage. [Photo/Chinanews.com]
An ancient Poya ethnic songbook a cappella concert wowed the audience on July 19 in Qiubei county, Yunnan province.
Before the show, the chorus won a gold medal at the 2016 World Choir Games held in Russia, sharing the regional music with the world.
Poya Songbook is an ancient folk song collection written on a piece of hand-woven cloth in hieroglyphic symbols. It originated from Poya village in Yunnan province, Southwest China.
It is the only discovered record in the world which documents songs with hieroglyphics. In 2011, the Poya Songbook was added to the list of National Intangible Cultural Heritage.
Each of the 81 symbols in the songbook represents a love song's name which usually corresponds to a natural element such as the moon, stars or rice leaves.
The chorus, made of Poya villagers with various professions, from school teachers to tractor drivers, invests tremendous time and energy to introduce the songs of their village on a much bigger stage.
"Unlike in the old days, now our folk songs have been brought on the international stage," Nong Yingchun, a choir member, said. "We get to perform and win prizes. I feel very lucky and proud."
"We want the world to enjoy Poya music and know about the culture of our people," said Li Yukun, deputy of the Poya Songbook Chorus. "Our plan is to tour around Southeast Asia, and then go to Europe and the United States."