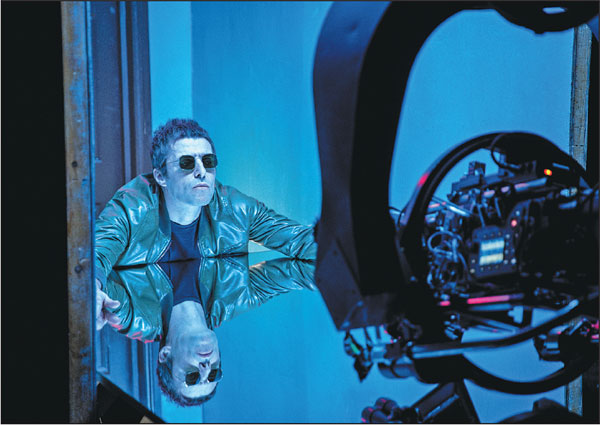 Liam Gallagher rose to fame as the lead singer of the rock band Oasis, and later as the singer of Beady Eye, before performing as a solo artist after the dissolution of both previous bands. Provided to China Daily
Lead singer's launch of a solo career brings Liam Gallagher back into the limelight - and to China for two concerts, Chen Nan reports
When Liam Gallagher arrives for his debut tour in the Chinese mainland this August, fans in Beijing and Shenzhen will enjoy two shows of "honest, heartfelt and pure rock 'n' roll", says the former Oasis frontman.
"I hope to bring Chinese fans lots of super sounds. We're going to be playing some of the songs from the new album and lots of Oasis stone-cold classis," says Gallagher in an email interview with China Daily.
Gallagher, 44, is best-known as the lead singer of the legendary British rock band founded in 1991 in Manchester and consisting of guitarist Paul "Bonehead" Arthurs, bassist Paul "Guigsy" McCarroll, drummer Tony McCarroll and Gallagher's elder brother Noel. Oasis was one of the most successful rock bands from the UK and a Grammy Award nominee; it disbanded in August 2009 due to a feud between the Gallagher brothers.
Later, Liam Gallagher and other former members of Oasis started another rock band, Beady Eye, but that band split in 2014.
Liam Gallagher has been out of the limelight since. But with his solo album As You Were scheduled for release this October, and a solo debut performance at a sold-out benefit concert for the bombing victims in Manchester this May, Liam Gallagher has launched his first tour as a solo artist.
In May, the singer-songwriter has released his latest single, Wall of Glass, from his upcoming album, and performed it for the first time at the emotional Manchester charity concert. Music video of the single has also been released online. With raucous power chords, pounding drums and wailing harmonica, Gallagher snarls in the song with his trademark voice.