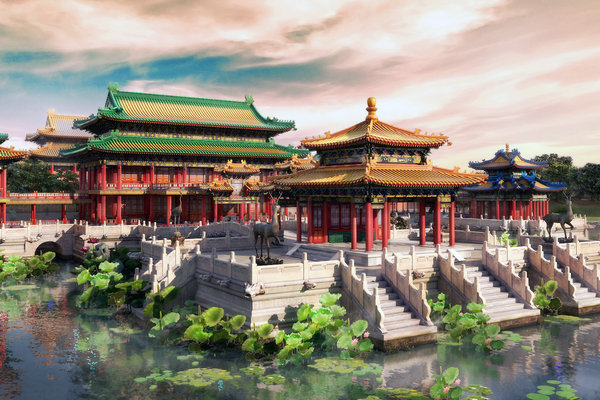 Digital restoration of Fanghu Shengjing, one of the most splendid scenic spots in the Old Summer Palace.[Photo provided to China Daily]
Fanghu Shengjing was considered the most splendid scenic spot in Yuanmingyuan, or the Old Summer Palace, in Beijing.
It was located on the north bank of a bay of the Northeast Sea, an architectural complex of monastery gardens, with the allure of mountains and buildings where the immortal lived.
That appearance harked back to a tale according to which more than 2,200 years ago China's first emperor, Qin, sent a person named Xu Fu with 1,000 boys and girls to the East Sea to look for a place called Penglai, where immortals were said to live, and ask for medicine that would confer eternal life on humans.
More than 1000 years later, Emperor Qin's unfulfilled wish was transformed into a scenic spot in Yuanmingyuan, Fanghu Shengjing.
Yong Zheng, the fifth emperor of the Qing Dynasty (1644-1911), was extremely diligent and, according to imperial records, sleeping no more than four hours a day and taking off just one day a year-his birthday. His work ethic over the 13 years of his reign is reflected in his prodigious written contributions held in government archives, running to more than 10 million characters.
In later years, Yong Zheng tired easily, and this as well his fear of death drove him to look for elixirs of health and of life. In the East Lake of Yuanmingyuan, workers laid giant irregular rocks and built splendid buildings to symbolize the Penglai Islands, and Taoist priests tried to come up with remedies for the emperor through alchemy. However, these elixirs contained heavy metals that may have caused or contributed to Yong Zheng's sudden death.
His successor, Qianlong, drove the Taoist priests out of Yuanmingyuan as soon as he ascended the throne, but before long he was ordering workers to dig a lake and build an island to build a fantasy land on it.
Fanghu Shengjing was one of the grandest architecture complexes in Yuanmingyuan, covering about 20,000 square meters. There were nine two-story buildings and three pavilions, with an architectural layout completely different to that of traditional imperial palaces. Three big pavilions were in the shape of the character for mountain, shan, and extended onto the lake, followed by three rows of buildings, three pavilions in each row.
While Yong Zheng was a devotee of simplicity and austerity in his surroundings, his son Qianlong preferred lively color. So Fanghu Shengjing, covered with yellow, blue, green and violet glazed tiles and supported by red wooden pillars, looked especially dazzling among the grey buildings that Yong Zheng built.