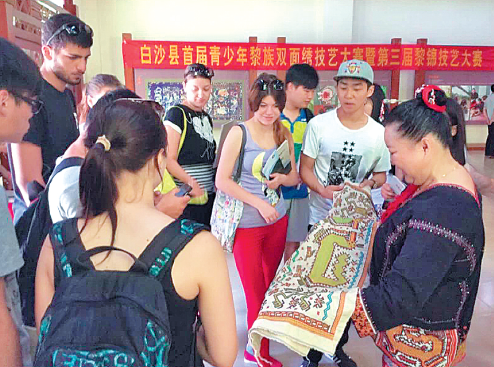 Fu displays her tapestry to tourists. Her intricate embroidery work and one of her dragon-themed double-sided tapestries. [Photo provided to China Daily]
"Busy, tired but happy every day," is how Fu Xiuying describes her life. From the Li ethnic group on Hainan Island, Fu has won fame both at home and abroad for her double-sided Li brocade embroidery, weaving artworks using highly refined techniques that span 3,000 years.
Fu, 52, is entering the busiest period of her life since she was named in 2010 by Hainan authorities as a representative inheritor of double-sided brocade. UNESCO listed the brocade in its first endangered cultural heritage group in 2009. At the time there were only five masters of the brocade in China.
During the three-day Li new year holiday in late March, Fu received orders worth more than 110,000 yuan ($16,000), enough to keep her busy for the year.
And more orders are coming in, as the traditional Li brocade-often described as a rare living fossil-is used from everyday artifacts to high-end commodities highly valued by world-wide collectors.
She also teaches brocade techniques in a number of schools, universities and training centers in Li villages. The Li were the earliest settlers on the island and they were the first cotton growers in China.
Li women hold a special place in the country's textile industry development for their spinning, coloring, design and weaving and embroidering.
Despite her busy schedule, Fu relishes the opportunity to look after her 18-month-old granddaughter Ding Dang, and enjoys weaving her artwork under her watchful eye.