Mongolian girl chases embroidery dream
By Lu Wei Updated: 2017-03-21
Hasi means jade in the Mongolian language, and Qimuge means to embellish. With a name indicating delicacy and fairness, Hasi Qimuge, a Darhan Muminggan Joint Banner resident, has found fame and fortune in embroidery.
Born and raised on the Mongolian grassland, Qimuge developed a sense of identity rooted in the area's culture. As a child she learned Mongolian robe embroidery, her favourite handicraft among the many others, from her mother.
She polished her handicraft techniques and incorporated Mongolian features into her work during her three years at the Inner Mongolia University for Nationalities. Qimuge then returned to her hometown and opened a shop featuring handmade products there.
Her shop was decorated in Mongolian style, giving visitors a feeling of stepping into a yurt. She filled the space her handicrafts, including leather bags and Mongolian costumes.
Qimuge creatively combined leather carving and cast-over embroidery, two Mongolian techniques, to remain in top spot in a fiercely competitive market.
"I was faced with setbacks and frustration when I started my little shop which led me to become a marketing specialist as well as a designer," Qimuge said.
"I had to learn to market my handicrafts so that people could see and buy them."
With the boom in WeChat, Qimuge saw a chance to publicize her handicrafts on the new social medium as well as display them in her shop. She posted her handmade products on WeChat and gained a large number of followers many of whom live in Qinghai province, Xinjiang Uygur autonomous region, while the rest come from other regions across China.
The annual sales volume of Qimuge's shop currently stands at 120,000 yuan ($17,400), making it quite a success story.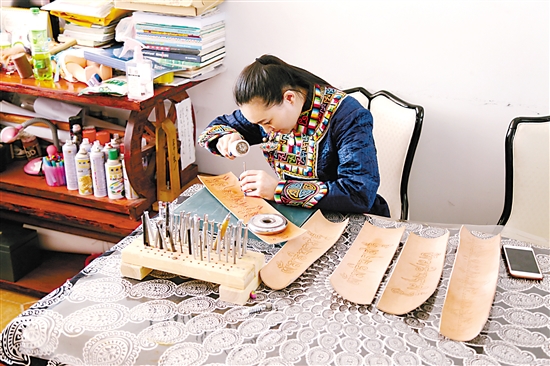 Hasi Qimuge is at work making handicrafts on March 15. [Photo/Baotou Daily]