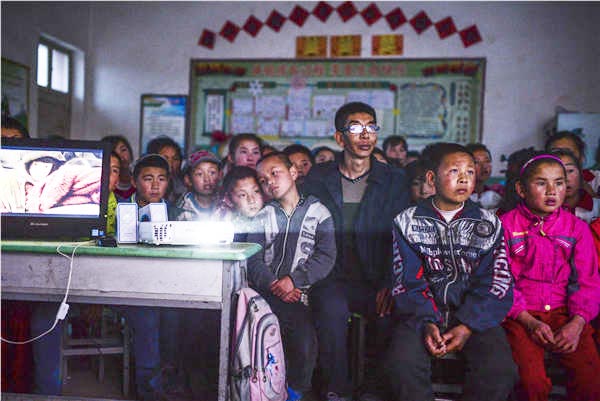 Principal Wang Xiaochun watches film with children in class. Photos by Lai Xinlin and Chen Zheng/Provided to China Daily
Xihaigu, known as "bitter barren land", is situated in the southern part of the Ningxia Hui autonomous region.
It covers seven poverty-stricken counties including Xiji, Haiyuan and Guyuan. Located on the Loess Plateau, it faces rain scarcity and extremely poor living conditions. The UN has identified the region as one of the world's most inhospitable places. But in spite of the tough conditions, there are quite a few rural teachers who work in the area. The schools in this area have very few facilities. But despite these problems, the teachers continue to perform their duties with great devotion. China currently has more than 3 million rural teachers teaching more than 40 million rural children. According to the Ministry of Education, between 2010 and 2013, the number of rural teachers fell from 4.73 million to 3.3 million.