Nurturing minds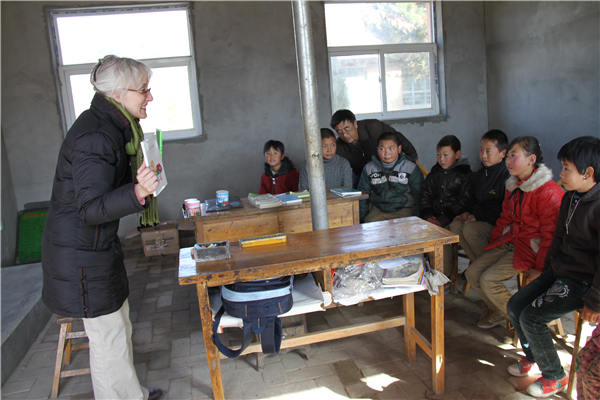 Melissa Kay Smith brings books and hope to children in poverty-stricken mountain areas in southern Ningxia Hui autonomous region. Provided To China Daily
An American educator resides in a quiet Chinese city owing to her love of teaching, Liu Xiangrui reports in Yinchuan.
Having spent about three years in the early 1990s teaching English to the residents of Yinchuan city in Northwest China's Ningxia Hui autonomous region, Melissa Kay Smith had grown fond enough of China to return in 2004 after acquiring a doctoral degree in education from the United States.
Since then, the 48-year-old, who was raised in the US state of Indiana, has called Yinchuan her new "hometown".
Smith is today an associate professor of English at Ningxia University, where she teaches graduate students and sometimes also trains teachers from local schools.
"So, it feels like my home," says Smith, adding jokingly that she cannot bear any criticism of Yinchuan, which in quietness matches her own personality.
Her contribution to Ningxia's education has been recognized by the central government.
Last year, she received the Friendship Award, China's top honor for foreign residents who contribute substantially to the country's development in different fields.
In 1991, Smith first came to China as part of an educational program to train local teachers in the southern Hainan province. She then worked in Beijing and Changchun city in the country's northeast for some time before going to Yinchuan in 1993.
Three years later, she returned to the US for further studies and completed her doctorate from the University of Illinois in 2002.
Now, she speaks fluent Chinese and uses her Chinese name, Shi Meichun, most of the times. Smith loves to read while not working or baking, which is her favorite hobby, she says.
Over the years, she has also built a large collection of things that reflect traditional Chinese culture, including several pieces of old cupboards.