Nurturing minds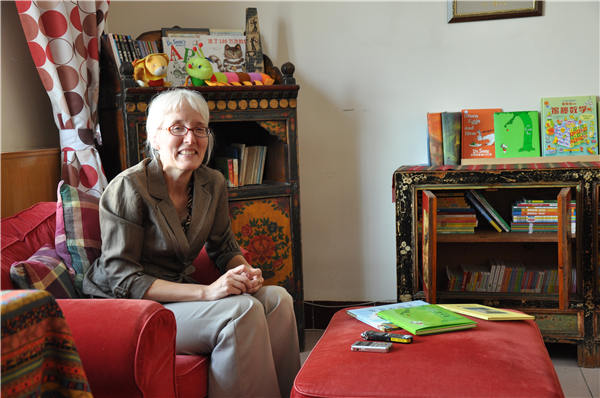 Photo Provided To China Daily
She is happy to be around children and has placed piles of books in her living room for them, often inviting children from the neighborhood to storytelling sessions in Chinese.
"I wish I can stay in Ningxia in the future (as well) to teach teachers and students," says Smith. "I don't have my own children, but my students are my children."
Other than her university job, Smith is involved with caring for poorer children in the remote mountain areas of southern Ningxia. She has also visited many schools in those places, taking books for young children and engaging them in fun activities. Smith found that a few children there were reluctant to interact with her at the beginning.
"However, those who were too shy to accept my hugs at first even reminded me that I forgot to hug them when I was leaving," she says, laughing.
"They had poor material conditions and many of them have to do different kinds of chores after school," Smith says, adding that the children are studying hard to change their situation.
The hospitality of the children's parents has also touched Smith, who recounts receiving gifts such as homegrown potatoes and embroidered shoe pads from the parents despite their impoverished lives. Smith has received handmade gifts from the kids as well.
In the past few years, she has donated more than 5,000 books to local schools and has gotten some friends in the US to do the same, she adds.
Smith has also financially supported several students from poor families for their education using her own savings. One such student has successfully graduated from Ningxia University.
"I cannot help them a lot financially, but it's important to give them encouragement. They are studying far away from home and are eager for care from not only their families. Girls especially need extra care," Smith says, adding that now and then, she invites her students home and cooks them a meal or two.
Smith was also invited as a guest to the Sept 3 military parade in Beijing that marked the 70th anniversary of China's victory in the War of Resistance Against Japanese Aggression (1937-45).
"I am just an ordinary teacher. What I have done is just a drop of water," Smith says of her experience in life as an educator.
Smith has published many books on education and is involved with teaching programs of several universities around the world, occasionally traveling to train teachers in different countries such as Thailand and Lithuania.
Contact the writer at liuxiangrui@chinadaily.com.cn