Cirkopolis by Cirque Eloize in Beijing
Date: July 27-30 - 7:30 pm
Venue: Beijing Poly Theater
Price: 180-880 yuan
With Cirkopolis, Cirque Eloize presents a show that combines the worlds of circus, dance and theatre. In the heart of a stern and imposing city in appearance, giant gears and dark portals symbolize a mechanism that crushes individuality. Performing within an inventive stage design and accompanied by an original musical score and video projections, ten acrobats and multidisciplinary artists rebel against monotony, reinvent themselves and challenge the limits of the factory-city.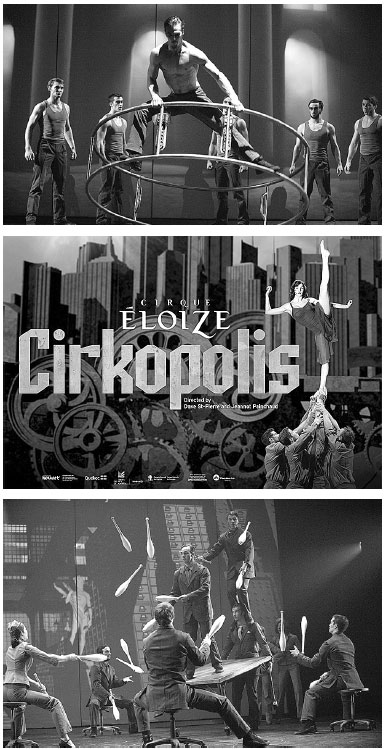 The Smurfs Live on Stage
Date: Aug 4-7 - 7:30 pm
Venue: Shanghai Culture Square
Price: 80-580 yuan
The story is set in Spring - Smurfs' favourite time of the year when the characters are busy preparing for the much-awaited annual Spring Parade. But while the Smurfs make merry and sing and dance with excitement, the wicked Gargamel comes up with a plan to trick Mother Nature and bring an end to the festivities. The Smurfs Live on Stage is a tale of magical adventure that will see the Smurfs battle Gargamel and save Mother Nature whilst promoting family values and the power of a true team spirit amongst children. Little fans, mum and dad and the grandparents alike can get ready to cheer the Smurfs as they come to life on a grand stage.

NCPA's Production of Mazart's Le Nozze di Figaro
Date: Aug 3-7 - 7:30 pm
Venue: National Center for the Performing Arts
Price: 180-680 yuan
Le Nozze di Figaro is one of the most famous operas created by Mozart in 1786 during the summit of his composing life. The libretto was adapted by the court poet Lorenzo Da Ponte from the same-title novel written by the French comedy writer Pierre Beaumarchais. The Enlightenment writer has written three comedies setting the background in Spain, The Barber of Seville, Le Nozze di Figaro and Sinful Mothers, the major roles and the plot of which are consistent.