NE China art exhibition puts the spotlight on Russia
( ejilin.gov.cn )
2016-07-27
When Jilin province in China's Northeast, put on an exhibition of photography and documentaries in the city of Vladivostok, in Russia's Far East, on July 22, it got a warm welcome from the district government, a local arts center and a museum for its Changbai-Mountain-themed presentation.
The show had 100 works of art to show Jilin's natural wonders, such as its winter frost, wetlands, winter fishing on Lake Chagan, the Manchu falcon, a Changbai Mountain alpine garden, and Mongolian and Korean culture. Its live art performances also attracted and amazed a large number of visitors who seemed thrilled with the little presents they got from the show, including Zhao Jun's paper-cuts and Yuan Guihai's calligraphy.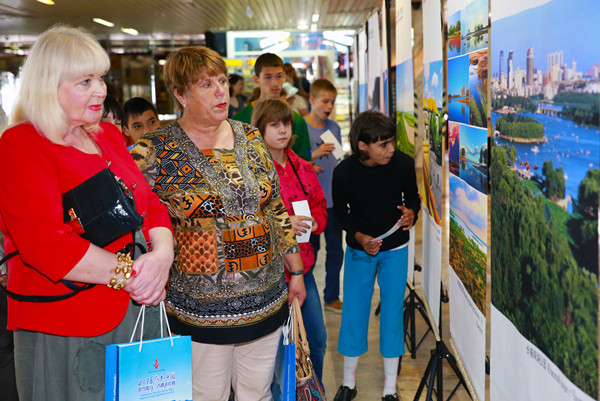 Works on exhibition getting the appreciation of the Russian public. [Photo by Ding Yan/chinajilin.com.cn]
There were also documentaries for the public that were carried on 24 Russian TV channels, July 23 - 26, with one on a cross-nation high-speed railway from China's Northeast, describing the wonders along the way, the difficulties in building it, the "Made in China" story, and China's fast development. Another one, Songhua Stone, tells the story of ink-stones made of Songhua Stone from Changbai Mountain and the natural and cultural resources there, with all of these programs, taken together, intended to promote Jilin's image among the Russians and to open a window on Jilin for the world.