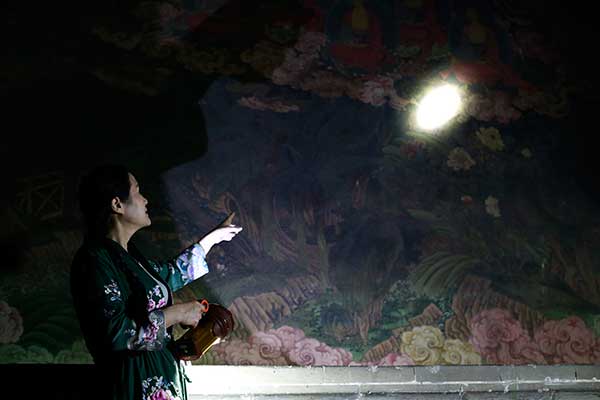 [Photo provided to China Daily]
"The temple served as a dormitory for the school's male students from 1952," he says. Then in 1967 the cultural revolution (1966-1976), a political movement that had among its stated goals the crushing of everything considered feudal, began. Classes were soon ended as all students were gone. The temple became extremely peaceful, and it was a peacefulness that suited me well. I soon moved from my original housing down the mountain into one of the temple's side rooms."
That was the genesis of the friendship between Ding and Wu Xiaolu, the doorman of the middle school whom many today consider the protector of the Fahai Temple.
"On one occasion a handful of teenage boys aroused by the movement rushed into the temple wanting to smash everything up," Ding says. "Realizing that the frescoes were more important artistically than the wooden Buddha sculptures that lined the frescoes' lower part, Wu made a painful yet quick decision. He said to the boys, 'Smash the sculptures if you want, but don't even try to put your hands on the frescoes before you smash me up.'"