China's crucible for talent has produced some of today's most feted young classical pianists.
When I prepared this story, I watched a video online of Kurt Masur conducting Wang Yuja playing Mendelssohn's Piano Concerto No 1 in G Minor.
The 27-year-old Chinese classical pianist is widely recognized as one of the most important artists of her generation, and she has won numerous international awards, including the Gilmore Young Artist Award in 2006 and the prestigious Avery Fisher Career Grant in 2010.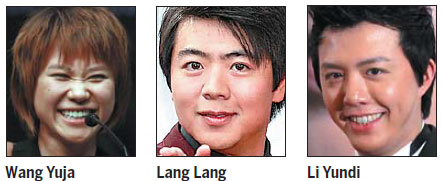 In the video, Wang is wearing smoky eye makeup and a violet evening dress with a deep V-neck, her hair tousled in Spice Girl style. She seems to be enjoying herself immensely. Her nimble fingers run smoothly over the keys, creating a crisp, clean, sinewy melody, which matches her image and imparts the jaunty, unruly brilliance of youth.
In other concerts, Wang has appeared in tight bright skirts and 3-inch heels which make her appear even more like a pop star.
Wang's eye-catching style has raised questions about whether it is suitable for classical music.
But Wang not only has confidence in her talent and taste, she also is independent enough to challenge the existing rules.