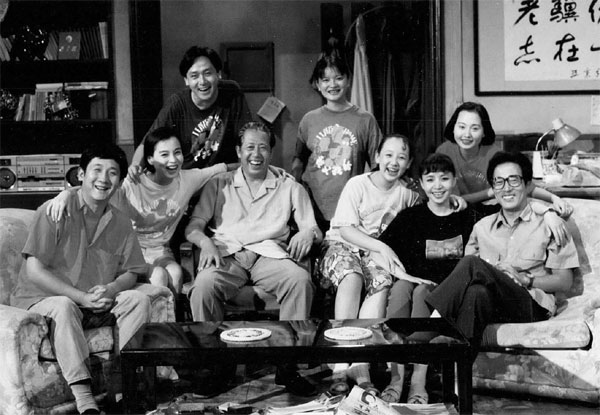 Chinese cable stations premiered China's first sitcom, I Love My Family, in 1993. Originally conceived as a 40-episode comedy, the show went on for a total 120 episodes, riding its unexpected popularity. Photo provided to China Daily
American sitcoms have long been popular on the mainland, leaving many to wonder why Chinese-produced shows continue to lag behind.
Every few weeks, illustration artist Feng Yuan takes her laptop to Friends cafe in eastern Beijing. The cafe is a replica of Central Perk - the fictitious coffee shop from the American sitcom Friends.
"I'm crazy about Friends. I've watched it more than six times. Every time the viewing gives me joy and inspiration for my cartoon creations," the 34-year-old says.
Friends, one of the most popular American TV series in China, was officially introduced in 2012 by video-streaming sites iQiyi and Sohu, but was withdrawn from the online platforms a year later due to copyright conflicts with US producers.
The show remains a popular topic of discussion online. A forum dedicated to the show on the communication platform Baidu Tieba has more than 1.1 million posts and 61,220 registered fans.
The 236-episode sitcom, aired by NBC from 1994 to 2004, is one of the many American shows that have millions of Chinese followers. Their fascination with American sitcoms traces back to 1990, when Growing Pains was introduced (and dubbed in Chinese) by a Shanghai TV Station.
Han Zhu, a Beijing housewife, says she grew up with Growing Pains, which gave her a fresh take on the relationship between parents and children during their teenage years. The show aired at a time when most Chinese parents still expected their children not to question them.
"I'm still a loyal fan of American TV shows. I don't buy the shallow lines and badly designed plots of most Chinese dramas," she says.
During the past seven-day National Day Holiday, Han said she spent 12 hours every day catching up on all the latest episodes of American sitcoms.
Sitcom researchers and industry insiders say that American sitcoms such as The Big Bang Theory and 2 Broke Girls have influenced millions of Chinese. They also wonder why a sitcom like Friends hasn't been made in China.