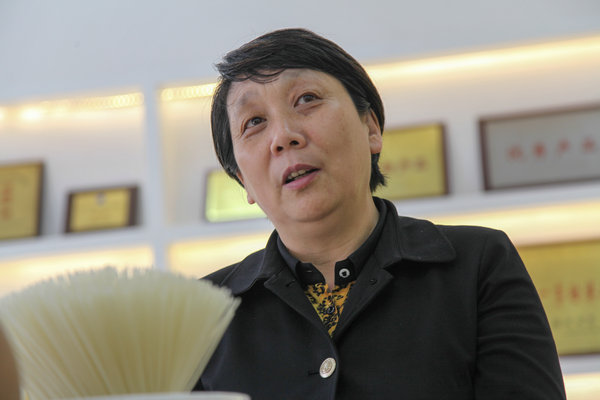 Guo Yonghong at her rice noodle factory. [Photo/CHINA DAILY]
Guo Yonghong receives guests in a pearl-white hall lined with glass showcases, exhibiting one of Huichang county's most famed food products - rice noodles, or mifen, a popular staple in South China and Southeast Asia. Guo, the general manager of Jiangxi Wufeng Food Co, has worked in the industry for more than 27 years.
Under her leadership, the company has turned two decades of innovation and hard work into commercial success, with its rice noodles now being sold in the United States, Canada, France, the United Kingdom and 20 other countries and regions.
Guo began her career as a quality-control operative in a sugar factory in Jiangxi province, before moving to work in a State-owned rice noodle factory in Huichang in 1989.
"The noodles tasted bad, and sometimes they contained sand," said Guo, describing the factory at that time as "half dead".
Along with her colleagues, Guo decided to try and find a way of improving the noodles' taste. They discovered it was crucial to make them al dente, which means they are cooked to be firm to the bite.
"We tried many different things, including covering the noodles with a quilt to maintain the temperature, soaking them in hot water and combing them like hair," Guo said.
"I worked 17 hours a day in the factory and had little time to spend with my daughter in kindergarten who often slept in my office till dawn."
After three years of trial and error, Guo and her team finally hit upon a method of preparing the perfect rice noodle. In 1991, they brought the product to a food expo in Hainan province and won the gold medal. Orders started to fly in from all over China. In 1992, Guo developed a production line and exported the first 100 boxes of rice noodles to Canada.
In 1996, the Jiangxi Wufeng Food Co was established, and Guo continued to develop new products with different flavors and types of packaging. In 2008, Guo and her team dispatched tons of rice noodles to the earthquake-hit Wenchuan in Sichuan province.
Now, the company has 800 employees and an annual production capacity of 30,000 tons, translating into sales of 200 million yuan ($30 million) a year.
Guo does not own the company, which is a subsidiary of leading food enterprise China Resources Ng Fung Limited, but she does not see herself merely as an employee. "I have given my whole life to it," she said.