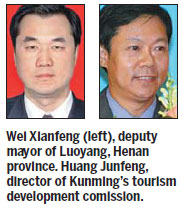 Cities that attract tourists should work more closely with their peers and industry organizations and develop policies to boost the travel sector, government officials and other delegates were told at the Beijing Fragrant Hills Tourism Summit.
The two-day event is hosted by the World Tourism Cities Federation, a leading international nonprofit travel association, and has attracted participants from home and abroad.
"It is necessary for Kunming to cooperate with other cities to attract foreign visitors," said Huang Junfeng, director of the Yunnan provincial capital's tourism development commission, a WTCF member.
The city's 72-hour visa-free policy has been approved by the State Council and is likely to come into force in October.
"We will leverage the policy to cooperate with neighboring nations, including Laos and Thailand, where numerous tourists come from Europe and the US every year," Huang said.
"We will also ask travel agencies in neighboring countries to include Kunming on their routes."
Mudanjiang in Heilongjiang province is adopting a similar strategy, said Guo Dongxia, deputy director of the city's travel bureau.
Members of the Mudanjiang governmental delegation and travel agencies mingled with participants from other tourism cities and organizations as part of efforts to improve cooperation with fellow WTCF members.