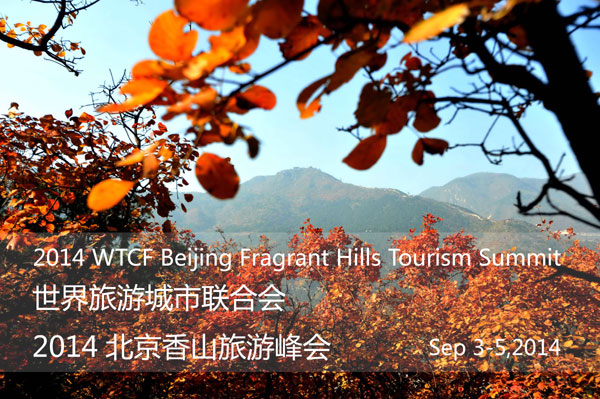 The WTCF 2014 Beijing Fragrant Hills Tourism Summit will kick off this fall in search of ways to expand the tourism market and cooperation with other countries. The event, slated for Sept 4 through the 5 2014, will focus on the subject of, "Market and Cooperation" The 2014 World Tourism Cities Expo and Trade Fair will start a day before the summit. 
This year's summit will take place at Riverside Hotel in the Beijing Garden Expo Park. The event goal is to create a tourism industrial chain combining tourism agencies, hotels, media, airline companies, airports, and financing, and set up a multilateral cooperation platform.
Representatives and experts from city members, international organizations, and three of the WTCF's subcommittees will attend the event. WTCF city and non-city members will take part in the expo and present tourism resources and products. More than 50 international buyers for China tours, 100 buyers for international tourist destinations, 50 domestic buyers for Chinese tourism and more than 100 famous tourism companies are anticipated to attend.
In September 2012, Beijing, joined by Berlin, Barcelona, Los Angeles, and other famous tourism cities around the world, created the World Tourism Cities Federation (WTCF). In 2013, the WTCF set up four subcommittees: the experts subcommittee, civil aviation subcommittee, subcommittee of tourism-related companies, and media subcommittee.
The WTCF focuses on the organization's stru
cture and expansion. To date, the WTCF has attracted 130 members, including 85 city members and 45 non-city members.