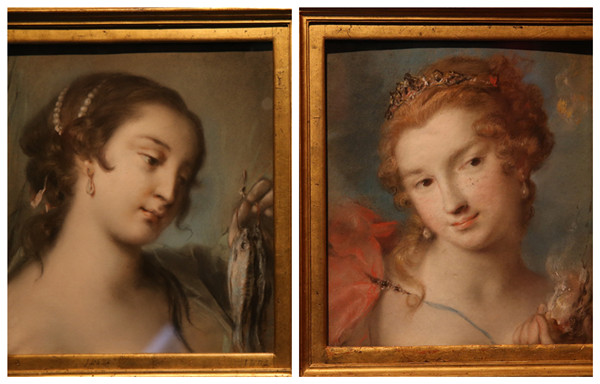 The show Venice and the Venetian School reveals the distinctive art style of the masterpieces from the 15th to the 18th centuries and how Venice influenced artistic developments in Europe.[Photo by Jiang Dong/ China Daily]
The last of a five-year series of Italian art shows in Beijing has begun, bringing Venice into focus. Lin Qi reports.
Ahead of the opening of Venice and the Venetian School at the National Museum of China on Thursday, the museum held an interaction over the popular Chinese micro blog Sina Weibo, where questions about the art exhibition were answered by officials from the museum and the Italian government.
Many Chinese asked about Titian and wanted to know how many of the 16th-century painter's works would be displayed at the exhibition. Would his work, Venus of Urbino, for example, be shown? A prominent member of the Venetian school, Titian is among the Italian artists who are most famous among Chinese.
The NMC has four portraits by Titian (and his assistants), including of European monarchs Charles V and Philip II, both of whom had employed the painter.
Wednesday's online discussions were joined by Chen Lyusheng, deputy director of the NMC; Xiang Qian, a curator at the same museum; and Ugo Soragni, museum department director of the Italian ministry of culture.
For the Beijing show that runs through next year, many museums and galleries in Rome, Florence and Venice are loaning more than 70 paintings and sculptures, a majority of which are being shown in China for the first time.
As students, many adult Chinese who now use the Internet, read about the Venetian school in their textbooks. The school thrived from the mid-15th century to the 18th century, benefiting from Venice's booming commerce and political stability at the time.
Chinese who frequent Western-art shows will also see how Venice influenced artistic developments in Europe, including Baroque art and impressionism.
The NMC show also features artists like Giovanni Bellini and his talented apprentice Giorgione, as well as Tintoretto and Paolo Veronese, two of the many Renaissance painters.
Andrea Bellieni, director of Museo Correr in Venice and a curator of the NMC exhibition, says the show displays Venice's distinctive art style and reflects the city's contributions to Italy's cultural diversity.
"People were courageous in accumulating wealth and developing culture. And it was an open hub bridging Europe with other parts of the world, including the Orient," Bellieni says of Venice.