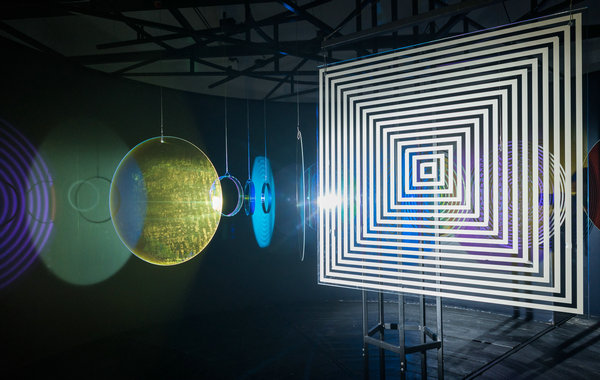 Olafur Eliasson's multimedia installation [Photo provided to China Daily]
An ongoing exhibition featuring celebrated foreign artists like Damien Hirst, Marina Abramovic and Ann Hamilton may help raise Wuzhen's profile. Deng Zhangyu reports in Wuzhen, Zhejiang province.
The ancient water town of Wuzhen in East China's Zhejiang province is the hottest art stage in China, and a number of star artists from across the world are attending a festival of sorts here.
The Wuzhen International Contemporary Art Exhibition, which opened on Sunday, has on display about 130 works from 40 influential artists, including Damien Hirst, Marina Abramovic (known as the "grandmother" of performance art), Ann Hamilton, Olafur Eliasson, Ai Weiwei and Xu Bing.
Half of the works on show are by celebrated artists from abroad, and many of the works are being shown in China for the first time.
Some of the artists have even created artworks based on the water town, well-known for its traditional wooden houses along the river and bridges connecting the streets.
Installations, sculptures, videos, performance art and paintings are being presented in two parts in Wuzhen. One section is in the water town, which typically attracts lots of tourists, and the other is in workshops transformed from a silk factory.
Many foreign artists had never heard of Wuzhen before. "Some of them had never even been to China," says Feng Boyi, curator of the show.
He worked on the exhibition for two years with an art committee including Uli Sigg, a famous Western collector who owns one of the biggest collections of Chinese contemporary art.
Of course, the artists did not accept the invitations immediately. Instead, each of them visited Wuzhen and then decided to create a work or loan a piece to the town, which has a population of about 60,000, says Feng.
American visual artist Ann Hamilton, known for her large-scale installations, created a work called Again, Still, Yet for Wuzhen, in a traditional wooden opera theater. The installation comprises an old loom on the stage with its colorful threads linked to every chair in the theater.