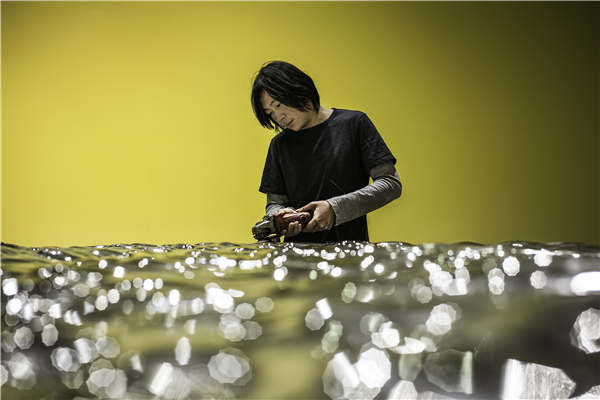 Zheng Lu expands his artistic exploration from sculptures to installations in his solo show, Transition, in Beijing. Photos Provided to China Daily
Zheng Lu presents an exhibition in Beijing that shows the shift of his artworks from conventional to contemporary, Deng Zhangyu reports.
Zheng Lu's ongoing solo exhibition brings into focus the changes his art has undergone in the past years - from simple sculptures to more dynamic outcomes by combining sculptures with videos, music and high-tech presentations.
Titled Transition, the show, which is being held on the rooftop of Parkview Green, a popular Beijing mall that displays artworks, features eight large-scale works. Among them, Rain Drum imitates the sound of rain falling on the building's rooftop, and Winter Solstice visualizes sunlight casting shadows on Dec 22, usually the year's shortest day in the Northern Hemisphere.
"These tailor-made installations can't be moved to other exhibitions. From now on, I want my works to have some connection to the spaces where they are shown," Zheng, 38, tells China Daily.
Curator Huang Du says Zheng's works on display are different from his past sculptures in the sense that they interact more with exhibition spaces and the visitors - "a challenging shift" for Zheng, from a sculptor to an artist of multimedia installations.
Zheng's best-known previous work is a series of big stainless steel sculptures, with verses from ancient poems written in Chinese characters highlighting sculptures shaped like water droplets.