Giving dresses a digital twist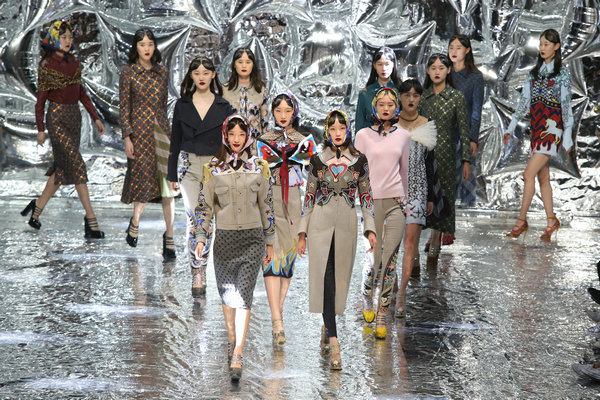 London-based Greek designer Mary Katrantzou brings her new collection (top) in Beijing for the Mercedes-Benz International Designer Exchange Program.[Photo provided to China Daily]
Audiences at China Fashion Week were recently treated to a show by rising star Mary Katrantzou. The designer talks of how she loves Chinese women's sense of style and what she is doing to tap the mainland market. Sun Yuanqing reports.
Though the China Fashion Week in Beijing has always evoked complaints about the very uneven quality of its runway shows, there have always been a few designers who have impressed audiences. And this time was no exception, with Beijing this week being wowed by Mary Katrantzou.
The London-based Greek designer, who has set the fashion world on fire with her talent in print and colors, was in town with her new collection thanks to the Mercedes-Benz International Designer Exchange Program, which also allowed Chinese designer Xiao Li to show at London Fashion Week in February.
Katrantzou, who believes in children being raised with fantasies about cowboys and princesses, used her 2016 autumn/winter collection to turn this idea into elegant and feminine pieces with whimsical masculine contrasts. Lively patterns and embroideries also adorned the dresses.
While the show is a reprise of her London Fashion Week debut, Katrantzou was passionate about doing it again in China.
"We really like the idea of coming straight here after the show and repeating it here," she says.
"It is so amazing to see a completely different cast. The girls are great with their style. They are so easy to cast. The way they walk is different, but we love it. That gives it (the show) new life."
While her brand is now sold here through multi-brand fashion boutiques Joyce and Lane Crawford, Katrantzou is eager to get closer to local customers.
"We want to create more awareness around the brand so that they know more about it and feel closer to its DNA."
Katrantzou says she appreciates the fact that Chinese women have a very strong sense of style and know immediately if they like the clothes or not.