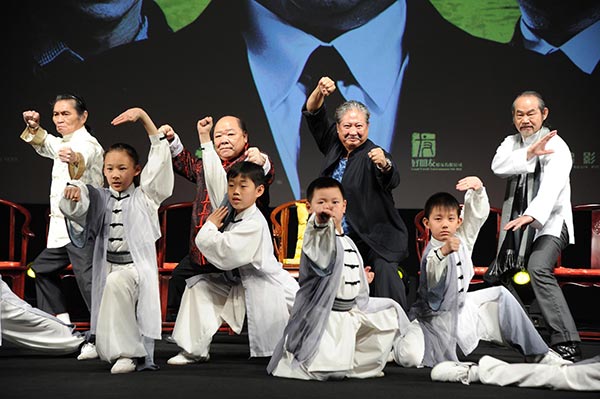 Sammo Hung (second from right, behind) at the premiere. [Photo provided to China Daily]
It is seen as the new hope for the struggling genre of
kung fu
movie
s. And, as if in recognition of that status, the action thriller
The Bodyguard
attracted a number of A-list stars for it
premiere
in
Hong Kong
recently.
Among those at the March 29 event were top stars Tony Leung Ka-fai and Liu Ye and director Han Yan.
The movie, whose lead star and director is Hong Kong kung fu giant Sammo Hung, boasts of real-life action, a rare occurrence in a digital era where most action movies use computer technology to create martial arts scenes.
Hong Kong megastar Andy Lau, who also stars in the film, is one of the producers.
Jiang Jun, the film's scriptwriter, tells China Daily that the inspiration for the movie is his retired father.
Hung, who plays a retired secret agent in the movie, says he does a lot of research for the fight sequences in his films to provide audiences with a realistic effect.
Related:
Top celebrities produce Chinese movie