1980s glam makes a Paris comeback as Chanel stays classy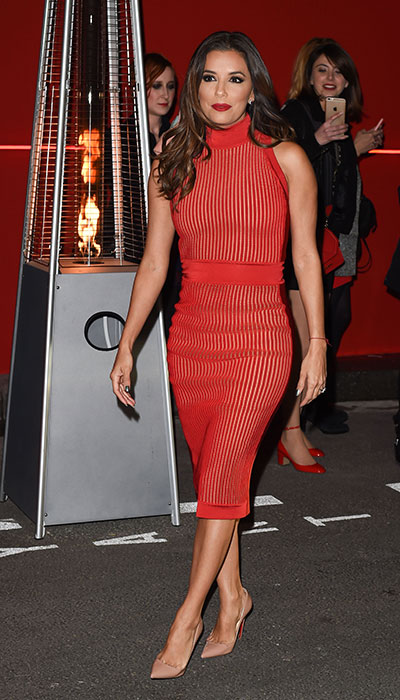 Actress Eva Longoria at the Red Obsession party to celebrate L'Oreal Paris's partnership with Paris Fashion Week. [Photo/Splash News]
It was back to the future on the Paris catwalks as Chanel cleverly tweaked its back catalogue only for Saint Laurent to revive a look that some thought best forgotten.
In what could be his last show for the label, designer Hedi Slimane-the man credited with the skinny black jeans look and making grunge glam-was judged to have given the brand "the finger" by parodying its founder Yves Saint Laurent's least glorious period.
The hugely-influential Women's Wear Daily was scathing about his collection which went hell for shiny snakeskin leather for late 1980s vamp, claiming it was drawing on a time when "Yves Saint Laurent was well past his creative prime".
Slimane sent out a succession of very short one-shouldered dresses with gigantic bows, belts and black angel or bat wings that would not have looked out of place in "Miami Vice".
Their full-throttle glamour had some style editors shifting awkwardly in their chairs, each of which carried a brass plate onto which their names had been engraved.
Vogue, however, was complimentary, hailing "Slimane firing on full on Eighties glam... clubland style".
The verdict on social media was mixed. While one style editor wryly described one dress as "Batwoman", a red heart-shaped fur coat provoked another fashion fan to tweet: "I can't believe Saint Laurent murdered Gossamer from Looney Tunes to make a coat"-referring to the hairy red monster who is always trying to eat Bugs Bunny.
"It must have been parody-as in giant middle-finger parody," Bridget Foley of Women's Wear Daily wrote of the show staged late Monday in a Left Bank mansion.
"'Hey,' Hedi Slimane said with every look, 'you who didn't love my indie-druggie-grungy-disaffected LA youth routine these past four years. How 'bout Eighties camp couture?... The parody didn't play nicely."
Foley was not a fan either of the exaggerated padded shoulders of his coats. "Just how silly can a shoulder treatment get? Answer: Pretty silly."
There was no such controversy at Chanel, where designer Karl Lagerfeld, who was only hitting his stride in the 1980s, continued his modernising riff on the brand's core looks, with lots of boucle wool jackets, coats and skirts, piles of pearls and big necklaces.
The Kaiser, as Lagerfeld is known, created an old-fashioned couture salon inside the French capital's Grand Palais.
His models strode down the aisles in front of stars that included singer Pharrell Williams in riding hats.
While Coco Chanel loved to sport a boater, Lagerfeld told AFP that the hats were "something you could nearly wear on your bike and on your motorbike because they can protect you.