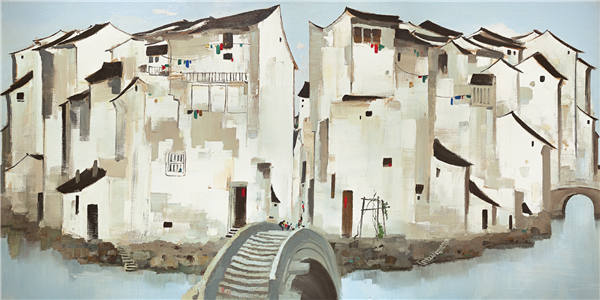 Zhouzhuang, by Wu Guanzhong. The piece was sold for HK$236 million ($30.4 million) at Poly Auction's spring sale on Monday night. [Photo provided to China Daily]
Zhouzhuang, an oil painting by master artist Wu Guanzhong sold for HK$236 million ($30.4 million) on Monday night at Poly Auction's spring sale, according to Beijing Times. The piece has updated the auction record of his artwork, and sets a new high among contemporary Chinese oil paintings.
The painting, with bids starting at HK$138 million ($17.8 million), is nearly 3 meters long, the largest-sized oil painting on the market so far. The painting was created by Wu in 1997 when he was 78 years old. Wu Guanhzong and his wife Zhu Biqin went to the water town Zhouzhuang in 1985 for the first time, and Wu detailed his artistic process in his book Draw the Eye.
Wu's landscape on oil canvas, Zhouzhuang, represents his mastery in portraying picturesque Jiangnan or the southern area in the lower reaches of the Yangtze River.
During the section "Fine Modern Chinese Paintings and Calligraphy" on Monday night, a total of 146 items were on sale, with Orchid and Bamboo by Zheng Banqiao and Roosters and Bamboos by Xu Beihong sold for HK$21.24 million ($2.7 million) and HK$17.7 million ($2.3 million) respectively.