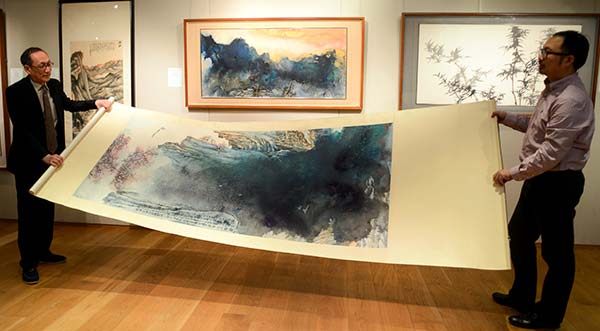 [Photo provided to China Daily]
A huge ink-and-color work of master painter Zhang Daqian (1899-1983) fetched HK$270 million ($34.8 million) at a Hong Kong auction on Tuesday, setting an auction record for the artist.
Peach Blossom Spring, a hanging-scroll landscape that Zhang made a year before his death, aroused a heated bidding war in the salesroom of Sotheby's major spring auction.
It finally went to Liu Yiqian, a billionaire collector from Shanghai who made headlines last year for spending $170 million on Amedeo Modigliani's Nu Couche ("Reclining Nude") in a New York auction.
Peach Blossom Spring, which is 2 meters long, exemplifies Zhang's mastery and creativity in the po cai (splashed ink and color) technique — an artistic approach he invented in his later years. Because of his deteriorated eyesight at the time, Zhang skipped portraying details and instead boldly splashed colors on paper to achieve a feeling of poetry and grandeur.
For Peach Blossom Spring, Zhang employed layers of malachite green to depict a mountain densely planted with trees, and at the bottom he used pink shades to show the blossoming of peach trees, thereby presenting a blissful, tranquil scene.
Zhang created the painting at his well-known residence and studio, the Abode of Maya, located in the Wai-shuang-hsi area on the outskirts of Taipei. He settled in Taiwan in 1976 after decades of living in Brazil and the United States.
The painting had been kept by the late Robert H. Ellsworth, a renowned collector of Asian art and furniture who was from the United States, and later was transferred to the collection of Sandy Mactaggart, a Canadian philanthropist and collector of Asian art. It was documented in important scholarly works and exhibited many times in the United States.
C.K. Cheung, head of Sotheby's Chinese paintings department, said in a presale release that the painting is considered to be "a pivotal work from Zhang's late years, alongside Mount Lu," another landscape by Zhang that is currently at the Taipei Palace Museum.
linqi@chinadaily.com.cn